Be Prepared – Severe Weather Returns Wednesday
MACON, GA. (41NBC/WMGT) – The Storm Prediction Center has included much of Middle Georgia in a Moderate Risk for severe storms on Wednesday. This means that scattered to numerous severe storms are expected throughout the day. This system has the potential to be stronger than Monday's severe weather event.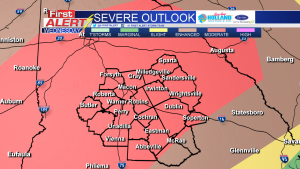 WHEN: It looks like there could be one round after midnight into the early morning hours on Wednesday. Then most of the activity is expected late morning, during the afternoon and overnight as the cold from passes late Wednesday.
THREATS: The primary threat tomorrow will be damaging wind gusts of 60+ mph. Trees and power lines may fall. Power may be knocked out. However, the tornado threat is a little bit higher than Monday. Some tornadoes may be strong (EF-2+) and long-tracked. Large hail up to 1.5 inches in diameter is also possible. Where there are discrete storms (singular, individual), heavy rainfall may lead to localized flooding.
PREPARATIONS: Today is the day to prepare. There is no threat for severe weather today (Tuesday). You have the rest of the day to make preparations for how you will get your warnings and plan out what to do if warnings are issued.
I would recommend purchasing a NOAA Weather Radio to alert you of warnings in any severe weather situation. These radios are loud and will wake you up overnight if a warning is issued in your area. Our 41NBC / WMGT Weather Radio Programming event that was scheduled for tomorrow at the Kroger on Tom Hill in Macon is CANCELLED due to the severe weather threats. However, if you purchase a radio and need help programming it, you can call customer service at 816-462-0459 for assistance.
You can also download our 41First Alert Storm Team App on your smartphones or tablets for severe weather warnings for your saved location. On our free app, you can also watch a live stream of our storm coverage.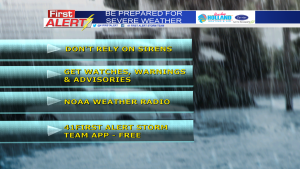 WHERE TO GO DURING A TORNADO WARNING: Head to the lowest level of your home or building. Get into the innermost room without windows (closets, bathrooms). Avoid travelling during a warning. If you find yourself stuck in a tornado warned location, abandon your car and seek sturdy structure. Also, if you live in a mobile home, it is VERY IMPORTANT that you use this time today to plan where to seek shelter during severe weather tomorrow. Mobile homes are one of the most dangerous places to be during a severe storm, as winds can easily damage the structure.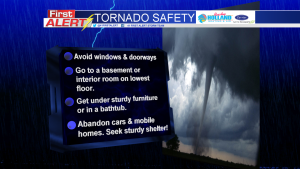 As always, the 41 First Alert Storm Team 41NBC will provide you with the latest weather updates. Keep 41NBC / WMGT on at your home or business tomorrow for live coverage as severe storms develop.