Plenty of heat on deck for first weekend of June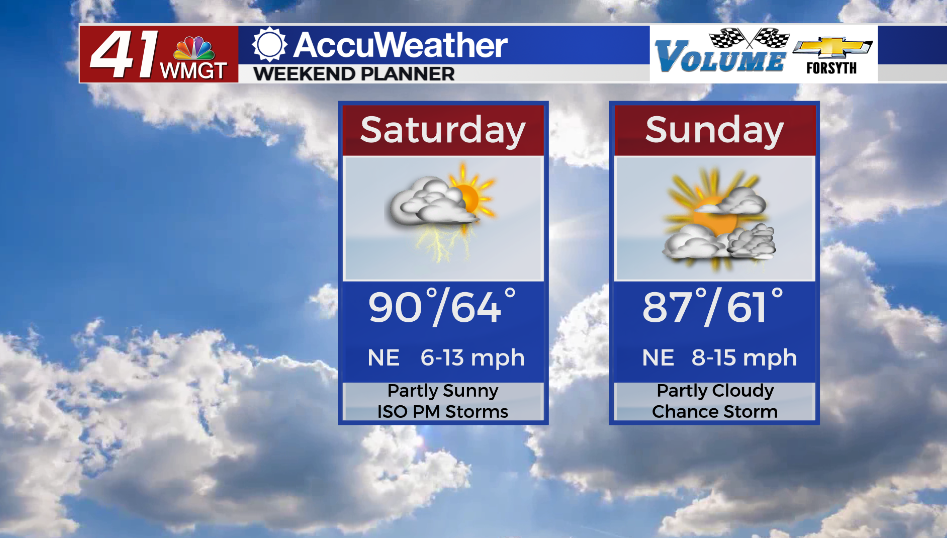 MACON, Georgia (41NBC/WMGT) – Temperatures will climb into the upper 80s and lower 90s around Middle Georgia over the weekend.
Tonight

Mostly clear and calm conditions should stick with the region overnight tonight and into tomorrow morning. The moon overhead is nearly full and viewers should have an easy time seeing it. Winds will largely blow out of the east-northeast at around 5 mph. Low temperatures will be in the mid 60s.
Tomorrow

There will be an abundance of sunshine around Middle Georgia before cloud fields fill in during the afternoon and evening. Temperatures will peak in the upper 80s and lower 90s around the region. Ambient winds will come from the northeast at about 10-15 mph. A few isolated storms are likely tomorrow in the evening with the southeastern counties seeing the highest odds for them.
Tomorrow night skies will begin partly cloudy, however things will clear later on. A couple of lingering showers and storms will be possible early on. Ambient winds will come from the east-southeast at around 5 mph with low temperatures in the mid 60s.
Sunday

Overall conditions for Sunday will be partly cloudy with the possibility for a few stray showers or storms. Highs will be in the upper 80s with ambient wind out of the northeast at 10-15 mph. Wind gusts could push as high as 20-25 mph.
Overnight skies will be mostly clear with the full moon overhead. Temperatures will drop into the mid 60s with ambient winds out of the east-southeast around 5 mph.
Follow Meteorologist Aaron Lowery on Facebook (Aaron Lowery 41NBC) and Twitter (@ALowWX) for weather updates throughout the day. Also, you can watch his forecasts Monday through Friday on 41NBC News at Daybreak (5-7 a.m.) and 41Today (11 a.m).