Painting horse creates one-of-a-kind works of art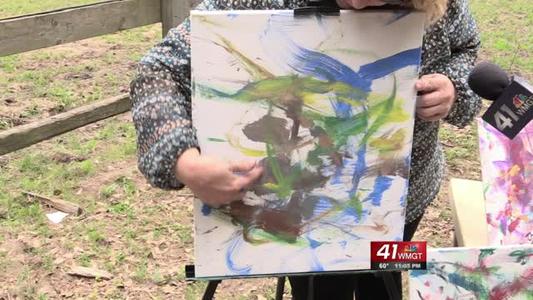 LIZELLA, Georgia (41NBC/WMGT) – A Lizella farmer believes she found the next up and coming artist.
A farm is not your typical artist's studio, but it is perfect for Thor. The eight-year-old American Sugarbush Harlequin Draft horse is a rare breed and he has an even rarer talent.
"I never thought i would have a painting horse," Thor's owner, Dorinda Hennings said.
Hennings is a painter herself, but she is now the assistant to the next "Mo-Neigh."
"The painting we started two weeks ago," she said. "It was just something that I decided to do. He took it up like he had been doing it is whole life."
Thor is still getting the hang of holding the different brushes. Hennings says the paint isn't harmful and it washes off with water. She adds this is a safe hobby for Thor and she's very proud of his work.
"There's a bird, down here there's a horse, and there's a cat. You can see the tail and all that," So he's getting better with his strokes, more controlled with them."
But that's not all. Thor has many other talents, like bowing, Spanish walking, slam dunking a basketball, opening and closing a mailbox, and much more.
He's not only a show horse, a trick horse, but now he can add painter to his resume. But he's not going to let the fame go to his head.
"He's like any other big star. They just get temperamental and decide what they're going to do," Hennings said.
Right now that's painting. And Hennings is Thor's biggest fan.
"He's going to have a whole gallery. We have a room just for his paintings," she said.
Hennings plans to sell one of Thor's paintings to benefit the Georgia Equine Rescue League.
Click here to learn more about Thor and to purchase one of his paintings. Click here to learn more about the American Sugarbush Harlequin Draft horse.