New sports complex to replace blighted homes on Wise Avenue
MACON, Georgia (41NBC/WMGT) – Macon-Bibb city officials were busy Monday morning as contractors took out an entire street of blighted homes on Wise Avenue.
Officials say the $2.25 million dollar project will lay the foundation for a new sports complex in the neighborhood.
Commissioner Virgil Watkins says the sports multiplex–including concessions and a track– will give kids in schools around the area access to more open space.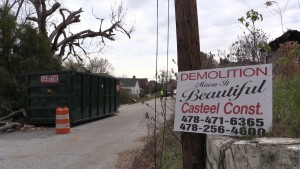 "There's a community that naturally didn't have access outside of Central City Park to green space, so we're cleaning up what used to be an eye sore so it's just a win-win on all fronts," said Commissioner Watkins.
Watkins and other city officials called the sports complex–located right off of Riverside Drive– a 'huge advantage' to Macon residents.
Demolition on Monday's blight project was just a portion of the on going Pleasant Hill Mitigation Plan.