New Bibb elementary school almost ready to welcome students
MACON, Georgia (41NBC/WMGT) – A new elementary school in Bibb County will be ready to welcome students this fall.
41NBC took a look inside Veterans Elementary to show us how your ESPLOST dollars were spent.
Former Barden and Morgan Elementary students have new halls to walk this August.
The Bibb County School District built Veterans Elementary where Morgan Elementary used to be.
"It was built in the 60's. It had a couple of renovations. It served a useful purpose but it got to the point where it made more sense to demolish it and built new rather than keep renovating," explained Jason Daniel, the Executive Director of Capital Programs for the Bibb County School District.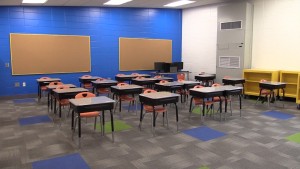 When you walk inside the building, you'll notice the walls are painted in bright colors.
"The architect team spent a lot of time putting the colors together just making sure they were going to create an inviting environment for the kids to sort of encourage coming to school and encourage learning," said Daniel.
The $16 million ESPLOST project includes the latest technology, modern classrooms, a media center, art and music rooms and a outdoor amphitheater, which is the first of its kind in Bibb County.
"There's going to be a place for large groups of people to come [and] meet in an outdoor environment. It can be an outdoor classroom. It can be a place for performances," explained Daniel.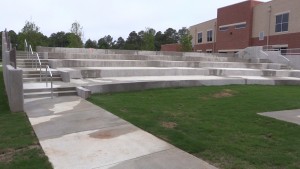 Now that all the construction is finished, it's time to unpack boxes.
"We're moving in. We're bringing furniture in. We're bringing all the teachers supplies in. We're bringing everything from the schools that are consolidating to this location," said Daniel.
The district is making sure the new Heroes have everything they need to kick start a great school year.
Veterans Elementary is more than twice the size of Morgan Elementary, according to Daniel.
The first day of school in Bibb County is August 1st.