Mostly dry and hot through mid-week
MACON, Georgia. (41NBC/WMGT) – Tropical Storm Chris remains spinning in the western Atlantic Ocean Tuesday morning. This tropical system will not threaten the United States, but it will continue to have an effect of Middle Georgia's weather this week.
Drier air has been filtering in to the southeast from the north for the past couple days. With more dry air in place, humidity will be lower.
Tuesday's forecast may feature a few pop-up showers in the afternoon to evening, but most locations will stay dry and hot with temperatures reaching the mid-90's.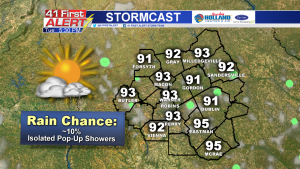 A cold front will push south through the middle of the week, but it definitely won't do much to drop temperatures.
What it will do is slightly increase rain chances across Middle Georgia and sweep Tropical Storm Chris farther out into the Atlantic Ocean.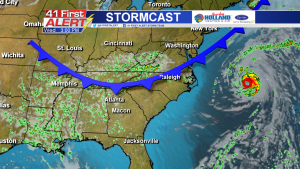 More sunshine Tuesday and Wednesday will lead to these two days producing the highest temperatures of the week.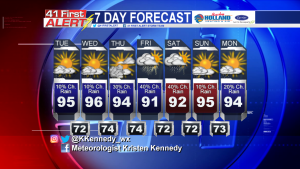 Connect with Meteorologist Kristen Kennedy on Facebook and Twitter for weather updates throughout the day. You can also watch her forecasts Monday through Friday on 41NBC News at Daybreak (5-7 a.m.) and 41Today (11 a.m.).