More storms likely in Middle Georgia tomorrow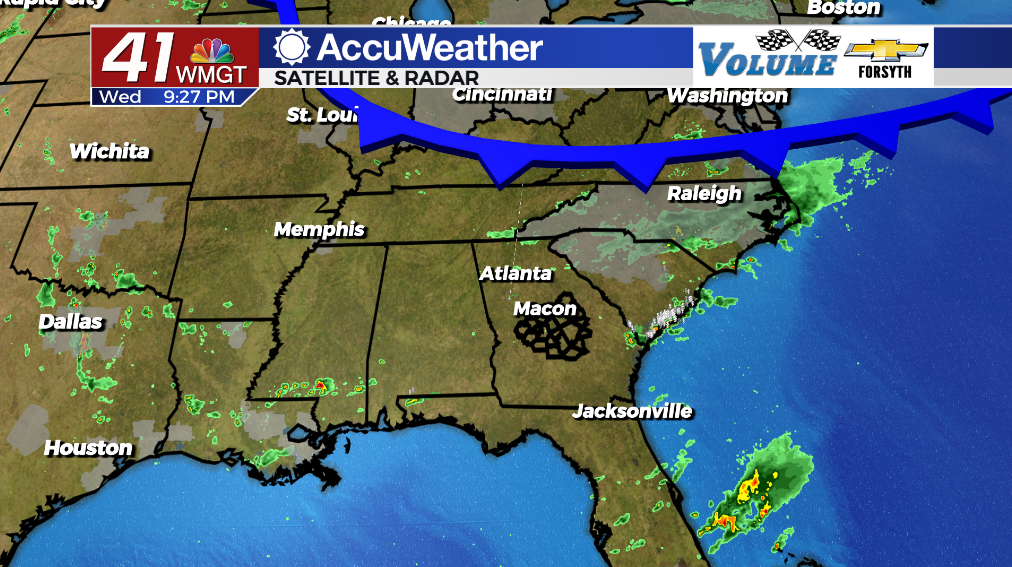 MACON, Georgia (41NBC/WMGT) – An incoming cold front from the north will elevate storm odds Thursday afternoon.
Tonight

Storm activity around the region has subsided, however plenty of cloud cover remains early. A lot of it will clear overnight, however a few could stick around into the early morning hours. A small shower or two will be possible overnight. Winds will mainly come from the west-southwest at around 5-10 mph. Low temperatures will be in the mid to upper 60s.
Tomorrow

It will be another hot day around Middle Georgia with a relatively sunny start before clouds fill in later on. Highs will be in the upper 80s and lower 90s across the region with ambient wind out of the northwest at about 6-12 mph. Storm chances look to be highest for the southern half of the region during the afternoon tomorrow, however a few are still likely to occur in the northern parts as well. Storms could have some strong wind gusts and small hail, however tornadic activity is not anticipated.
Storms should taper off heading into the overnight hours as the front moves out of the area. Winds will shift more towards the north at around 6-12 mph. Skies should clear out leading into Friday morning with temperatures largely falling into the lower 60s.
Friday and Beyond

Friday should be pretty nice, however it is not impossible for some of the wildfire smoke from Canada to end up in the Peach State courtesy of northerly winds that will stick around following Thursday's cold front. High temperatures will be in the upper 80s and lower 90s under mostly sunny skies. Overnight lows could fall into the upper 50s in some spots.
The weekend will see the heat and humidity return with highs back in the lower 90s on Saturday and increasing storm odds Sunday and into Monday. The incoming rain should help to clear out any fire haze that moves into the state behind Thursday's cold front.
Follow Meteorologist Aaron Lowery on Facebook (Aaron Lowery 41NBC) and Twitter (@ALowWX) for weather updates throughout the day. Also, you can watch his forecasts Monday through Friday on 41NBC News at Daybreak (5-7 a.m.) and 41Today (11 a.m).