Mid-week weather update: dry and hot
MACON, Georgia (41NBC/WMGT) – The beautiful weather continues this week, but it's only going to get hotter.
According to the National Weather Service in Peachtree City, the average high temperature in Macon for the first week of May is 81 degrees.
Warm air is moving over Middle Georgia from the south. Add in some sunshine, and temperatures will top out in the mid-80's Wednesday afternoon.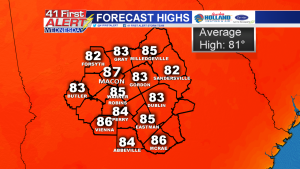 A high pressure system is keeping the southeast dry this week. Rain chances remain minimal through the first half of the weekend.
A cold front will move southward Sunday, creating the chance for isolated showers.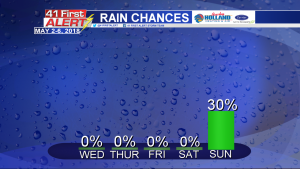 In the meantime, temperatures will get close to hitting 90 degrees Friday, then drop to the low 80's as the front arrives Sunday.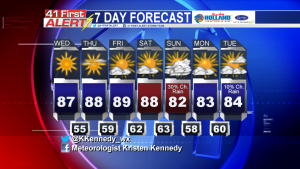 Connect with Meteorologist Kristen Kennedy on Facebook and Twitter for weather updates throughout the day. You can also watch her forecasts Monday through Friday on 41NBC News at Daybreak (5-7 a.m.) and 41Today (11 a.m.).