Macon boxing studio uses Muhammad Ali as inspiration when training
MACON, Georgia (41NBC/WMGT) – Cassius Clay isn't just known for taking home gold in the 1960 Olympics in Rome.
The man who would come to be known as Muhammad Ali was also an activist.
He preached non-violence after joining the Nation of Islam.
His death over the weekend has people stopping to remember the lessons he taught both in and out of the ring.
41NBC's Alexa Rodriguez visited a Macon boxing studio to find out how trainers feel about Ali's passing and how they're training the next greats.
""It's about you. Take care of yourself. Make sure you are a great person in society and contribute to the community. That's what it's about," said Rush MMA Boxing Coach Rufus Beddingfield.
One name comes to mind when you think about that boxing ideology.
"Even as a child, you knew who Muhammad Ali was and it wasn't because of his boxing career only. It was because of who he was as a person," explained Rush MMA Head Instructor Bubby Mitchell.
There are lessons from Ali that Beddingfield teaches his fighters.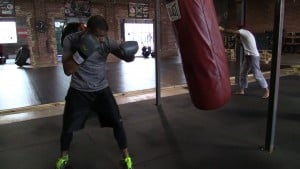 "Name of the game is hit and don't get hit and that's what Muhammad Ali worked on. If you looked at him when he first came out, he never got hit and that's what I want these guys to understand," said Beddingfield.
Mitchell called Ali an innovator.
"There's innovators, there's imitators and then there's just plain fools and he was an innovator," explained Mitchell.
Ali was an innovator even outside of the ring.
Young boxers can also learn from Ali's social activism.
"Everything that he ever preached, between discipline, respect. Those are things that as a coach you want to instill into an athlete," said Mitchell.
Just like Ali, Beddingfield tells his fighters their work isn't over once they take their gloves off.
"Your job, once I teach you this, is to come back and get another person and teach them. Not boxing, but life skills," said Beddingfield.
Across the nation people have created memorials to remember the athlete.
In Atlanta, boxing gloves were hung at the Olympic cauldron Ali lit in 1996.