Lingering rain showers possible Tuesday due to wrap-around moisture
MACON, Georgia. (41NBC/WMGT) – The system that brought heavy rainfall and storms to Middle Georgia Monday continues to spin along the east coast.
The low pressure system will shift east of Georgia Tuesday. While most of the rain will push east and northeast, lingering showers will still be possible in Middle Georgia.
The wind flow around a low pressure system is counter-clockwise. The spin of the system will cause some moisture to wrap around and dip back down into the southeast.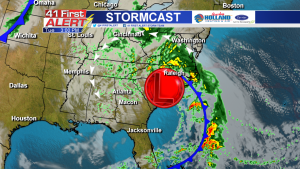 41NBC's in-house model shows most of the lingering showers in north Middle Georgia during the afternoon. Though, it's possible a few showers could pop-up south of Macon, too.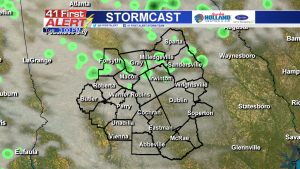 Another cold front will sweep across the southeast Thursday bringing rain/storms to Middle Georgia Thursday night through Friday morning.
This weekend's weather is looking sunnier, drier and warmer!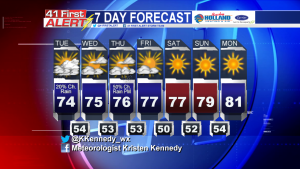 Connect with Meteorologist Kristen Kennedy on Facebook and Twitter for weather updates throughout the day. You can also watch her forecasts Monday through Friday on 41NBC News at Daybreak (5-7 a.m.) and 41Today (11 a.m.).