Keeping the humidity, turning up the heat in Middle Georgia this week
MACON, Georgia. (41NBC/WMGT) – Alberto may be moving northward, but the tropical system is still going to impact Middle Georgia through the end of the work week.
Southerly wind flow will allow ample moisture to stream across the southeast.
Combining high humidity and daytime heating from the sun, showers and storms will pop-up daily.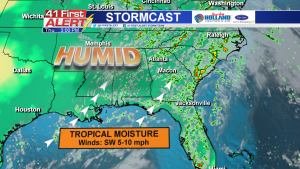 Temperatures on their own are expected to rise into the low 90's this weekend. Adding in the humidity, it will feel even hotter – close to 100 degrees by Sunday.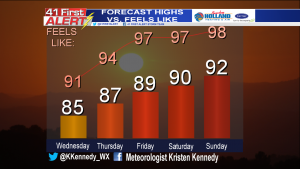 Once again, rain chances extend through the next seven days.
Pop-up showers and storms each day will provide a little relief from the heat, temporarily dropping temperatures.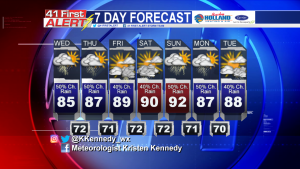 Connect with Meteorologist Kristen Kennedy on Facebook and Twitter for weather updates throughout the day. You can also watch her forecasts Monday through Friday on 41NBC News at Daybreak (5-7 a.m.) and 41Today (11 a.m.).