Isolated coverage of showers and storms for Wednesday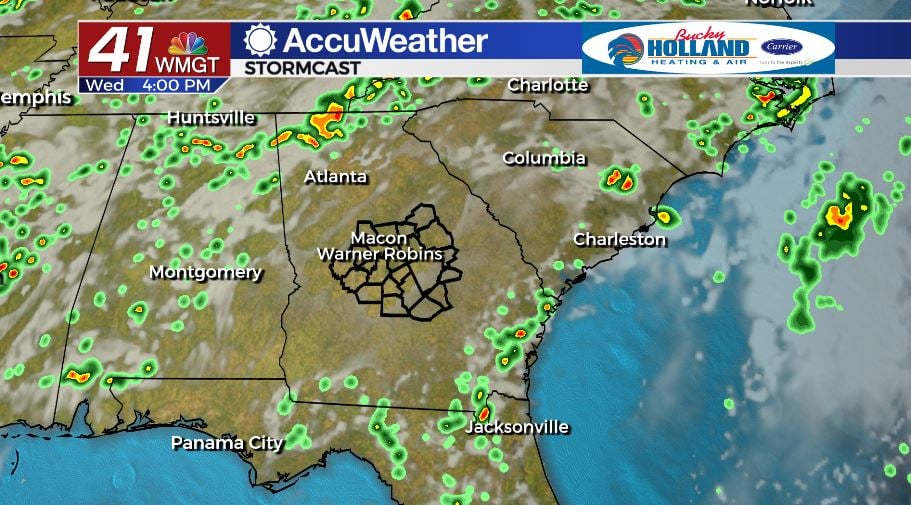 MACON, Georgia. (41NBC/WMGT)- After dealing with back to back days of widespread showers and storms, today's activity will be much more isolated.
TODAY.
Under a partly sunny sky this afternoon temperatures will warm into the low and middle 90's. When the humidity is factored in, it is going to feel like the middle and upper 90's at times. Isolated shower coverage is expected this afternoon and evening with a few thunderstorms possible as well. Tonight, we will look to dry out as temperatures fall to around 70° across the region. Patchy dense fog is possible by Thursday morning.
TOMORROW.
Isolated showers and storms remain in the forecast for Thursday. Temperatures will be slightly warmer in both the afternoon and overnight hours.
FRIDAY & BEYOND.
Rain chances are back on the rise as we head into the weekend. Our unsettled weather pattern will continue through at least early next week with rain and storm chances possible each day.
Follow Meteorologist Dalton Mullinax on Facebook (Dalton Mullinax 41NBC) and Twitter (@MullinaxWX) for weather updates throughout the day. Also, you can watch his forecasts Monday through Friday on 41NBC News at Daybreak (6-7 a.m.) and 41Today (11 a.m).