Irma leaves behind significant damage in Laurens County
DUBLIN, Georgia (41NBC/WMGT) – Thousands are without power and hundreds of trees are down in Laurens County after Tropical Storm Irma slammed the county Monday.
More than 15 trees fell down onto I-16 West between Dublin and Macon, pushing traffic to the shoulder.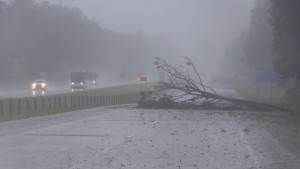 "It's crazy, I really didn't expect it to hit as hard as it did," Raeven Martin said. She had a tree come down right outside her home.
"That tree has been here 25 years, so since I was born, before we moved here that tree has been here," Martin said.
With debris scattered across roads and shingles being torn off roofs, Laurens County Emergency Management Agency Chief Don Bryant says Irma left behind a massive cleanup effort.
"We've all coordinated together, we're all going to go out, we ask people to be patient because it's going to take some time as much damage as we got across the county, it's going to take time to get it back to normal," Bryant said.
People in Laurens County waiting to pick up and rebuild, but some things won't look the same – like the view into Martin's backyard.
"That kinda hurt me in my feels because I've been growing with the tree," Martin said.
Even with the damage outside her home, Martin is counting her blessings.
"I either thought this tree or that tree would hit the house, but I just thank God it didn't," Martin said.
Despite all the damage, Bryant is hoping for for a successful recovery.
"It will take some time to get the debris up and out of the roadway and get thing's back to normal but our operation has worked real well so far."