Suspected murderer caught, charged with Macon's 15th homicide
UPDATE (5/7/2018): Police caught the man suspected of fatally shooting a man at a Macon hotel Sunday afternoon.
Rashad Marquez, 26, is charged with with murder and being held without bond at the Bibb County jail. He was found at a home in Lizella.
MACON, Georgia (41NBC/WMGT) – The Bibb County Sheriff's Office is now investigating the county's 15th homicide this year after a man's body was found in North Macon on Sunday afternoon.
"At this time we've located one gun shot wound to the back near the right shoulder-blade. He has been pronounced deceased on scene. We're still investigating the incident. Right now, the only information we have on a suspect is that he is a black male," said Sgt. Clay Williams.
Deputies got a call around 3:30 pm about shots fired near the EconoLodge on Riverside Drive.
That's when they found a middle-aged man's body lying on the ground in the hotel's parking lot.
"We don't have at this point, a real reason behind the shooting. It's still under investigation. We're certainly not releasing the name because we have not contacted the next of kin," Deputy Coroner Lonnie Miley told 41NBC.
The sheriff's office is asking for the public's help in finding a man they say may have some answers in connection to that homicide—26 year-old Rashad Marquez.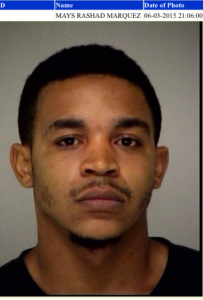 If you have any information on his whereabouts call the sheriff's office at 751-7500.