Hurricane Harvey Approaching Texas Coastline, Schedule for Landfall Late Friday
MACON, Georgia. (41NBC/WMGT) – Hurricane Harvey will be the first major hurricane to make landfall in the United States in more than a decade. The National Hurricane Center (NHC) describes a "major hurricane" as a Category 3 or higher, with winds of at least 111 miles per hour. Category 3 hurricanes are capable of producing devastating damage and loss of life.
Wilma was the last major hurricane to hit the United States, making landfall as a Category 3 in Florida. Harvey will be the first hurricane to hit Texas since 2008, when Hurricane Ike made landfall over Galveston Island.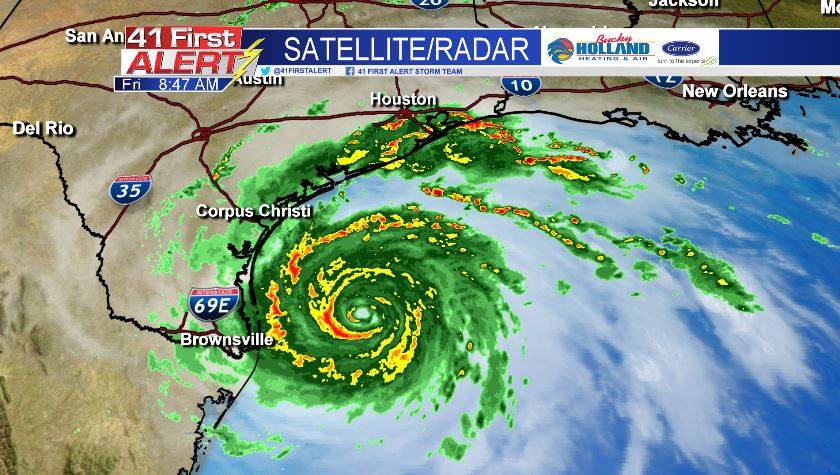 Many features of Harvey are visible on satellite and radar. The eye is the center of the hurricane. This is the calmest part of the system. Winds are slower, rain is little and sky is clear in this area of the storm. However the "calm" of the storm only lasts for minutes before the eyewall returns with more intensity.
The eyewall surrounds the eye with strong thunderstorms and the strongest winds. The eyewall is the most powerful part of the system.
A little further from the core of rotation are the spiral rainbands. These outer rain bands can extend as much as a few hundred miles away from the eye, depending on the size of the system itself. The rainbands consist of shower and thunderstorm activity, spiraling around the core of rotation. Winds are typically weaker than the eyewall, but the outer rainbands can still produce ample rainfall. Sometimes tornadoes can develop in this area of the storm as well.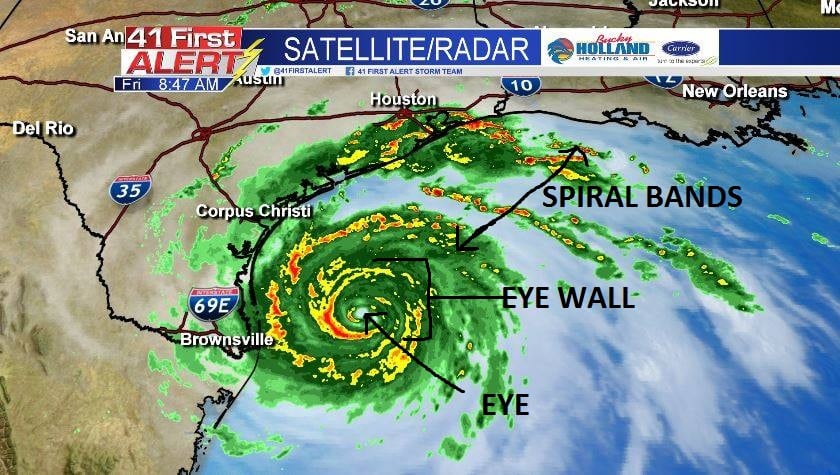 This morning, Harvey was listed as a Category 2 hurricane with sustained winds of 110 mph – literally just 1 mph away from becoming a Category 3 hurricane. The system was moving northwest at about 10 mph. By this afternoon, it will likely strengthen into a Category 3. Harvey is forecast to make landfall late Friday into early Saturday morning. The landfall path will stretch 30 miles from Port O'Connor to Matagorda Bay, which is about 70 miles northeast of Corpus Christi, TX.
Into the weekend, Harvey will weaken as it moves over land. By Sunday, it should be stationed around Houston, TX as a tropical storm. Regardless of the storm's status, several threats still exist. Hurricane Harvey will threaten the Texas coastline and neighboring locations with widespread power outages due to tropical storm or hurricane force winds, downed trees, damaged homes and serious flooding as a result of intense rainfall combined with storm surge.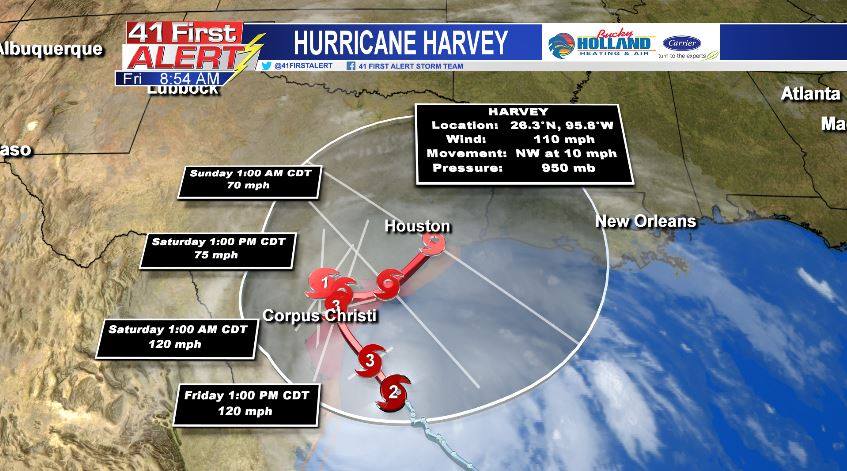 Throughout the next 72 hours, Harvey will drop 20-25 inches of rain across the Texas coastline. There may be isolated amounts of 30 inches of rain with heavier downpours as the system stalls out. Through the next seven days, locations from Corpus Christi to Houston could see over 20 inches of rain. Heavy rainfall will extend northward and eastward into east central Texas and Louisiana heading into next week.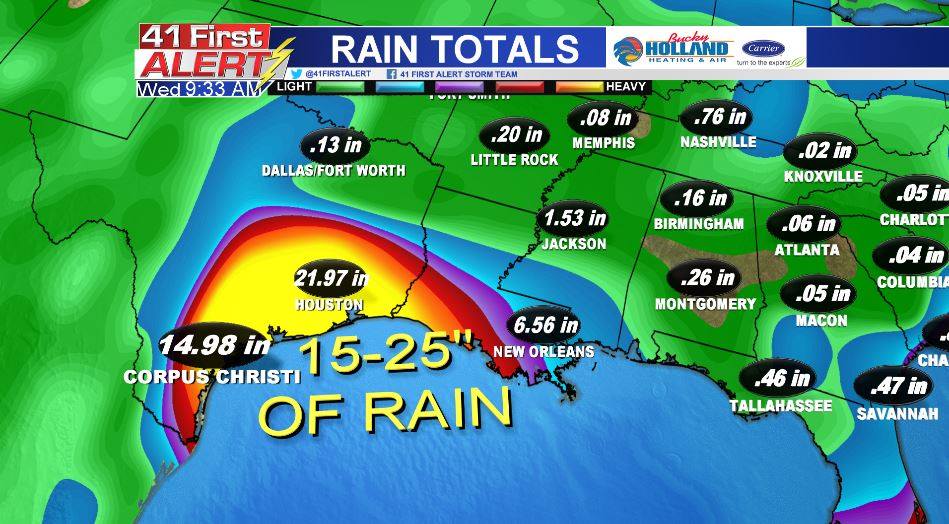 A Tropical Storm Warning (orange on map) stretches from Brownsville to Houston. Winds 39 mph to 73 mph are expected to occur in this area within the next 36 hours. A Hurricane Warning (pink on map) is in effect just south of Corpus Christi stretching northeast to Victoria, TX until Monday morning. In this area, 74 mph winds or higher are expected along with high water and/or high waves which could result in flooding. All these locations and northward including Austin, TX are under a Flash Flood Watch until Monday morning.
Mandatory and voluntary evacuations have been ordered along the Texas coastline. People in the path of this storm system should be prepared and heed the warnings. Harvey is likely to produce significant damage to locations in the path of the storm.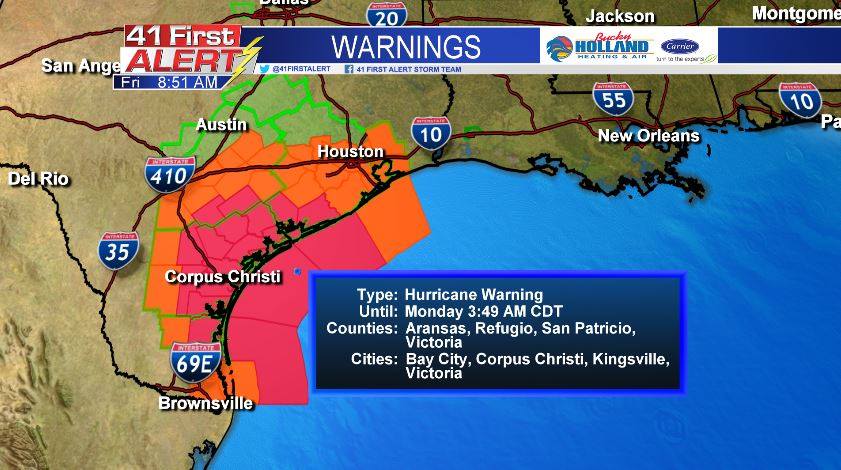 The 41First Alert Storm team will be tracking Harvey as it moves closer to the Texas coast and makes landfall. For more information, follow our meteorologists on Facebook and Twitter.