Humidity rises as rain chances return to Middle Georgia
MACON, Georgia. (41NBC/WMGT) – The ridge of high pressure that has kept Middle Georgia dry this week will be shifting east, leading a rise in humidity and rain chances heading into the weekend.
Temperatures will top out in the low 90's Thursday under a mostly sunny sky.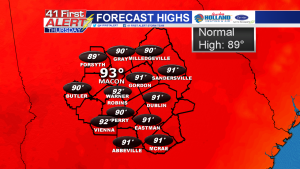 Friday, the high pressure system will be sitting over the western Atlantic Ocean. Winds will shift to the east and moisture will stream into the southeast. With humidity on the rise, a few showers could pop-up during the afternoon.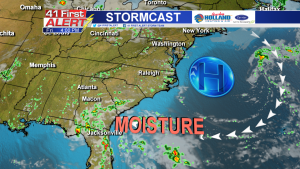 Isolated to scattered pop-up showers and storms will be possible daily from Friday to Wednesday.
Temperatures will stay near normal (89 degrees in Macon), but humidity will make it feel like the mid-90's.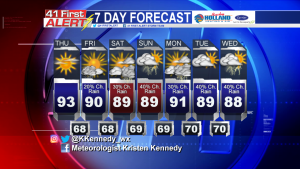 Connect with Meteorologist Kristen Kennedy on Facebook and Twitter for weather updates throughout the day. You can also watch her forecasts Monday through Friday on 41NBC News at Daybreak (5-7 a.m.) and 41Today (11 a.m.).