Humidity returns and rain chances increase through the weekend
MACON, Georgia. (41NBC/WMGT) – Chris intensified to a Category 2 hurricane late Tuesday night with constant winds of 105 mph. Wednesday morning, Hurricane Chris sustained its Category 2 status.
A cold front is draped across the east coast, blocking Chris from impacting the United States. The hurricane will continue moving northeast and weaken over the northern Atlantic Ocean by the weekend.
The dry air that hurricane Chris brought to the southeast this week will also be exiting the region as the tropical system moves northward. Moisture will meander as rain chances and humidity rise.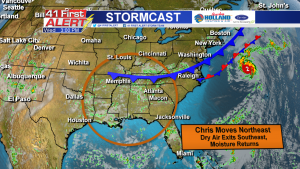 Higher humidity will make it feel even hotter than the actual temperatures may be the next few days.
While much of Middle Georgia will see high temperatures in the low-mid 90's Wednesday, it will actually feel more like the upper 90's and low 100's.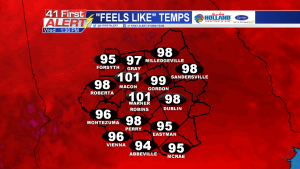 More moisture in the atmosphere will lead to isolated pop-up showers Wednesday through Friday, becoming more so scattered in nature this weekend.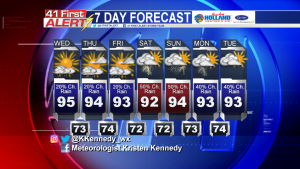 Connect with Meteorologist Kristen Kennedy on Facebook and Twitter for weather updates throughout the day. You can also watch her forecasts Monday through Friday on 41NBC News at Daybreak (5-7 a.m.) and 41Today (11 a.m.).