Humidity hangs around, summertime storms daily
MACON, Georgia. (41NBC/WMGT) – As a stationary front continues to sit across the Deep South, moisture in the atmosphere has no where to go but stay put.
For that reason, showers and storms will be likely daily and it will feel even hotter than the actual temperature.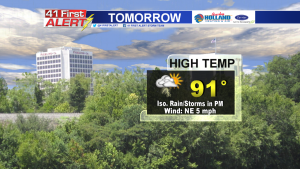 High temperatures Friday afternoon will be mainly in the upper 80's and low 90's. A few showers and storms will be possible, but they're more likely to be isolated than scattered.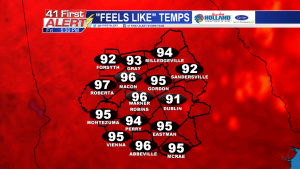 Adding in the humidity, it will feel more like the upper 90's in Middle Georgia Friday, but more like the low 100's through the weekend.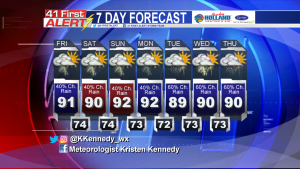 Connect with Meteorologist Kristen Kennedy on Facebook and Twitter for weather updates throughout the day. You can also watch her forecasts Monday through Friday on 41NBC News at Daybreak (5-7 a.m.) and 41Today (11 a.m.).