Hot Saturday, wet Sunday on deck for Middle Georgia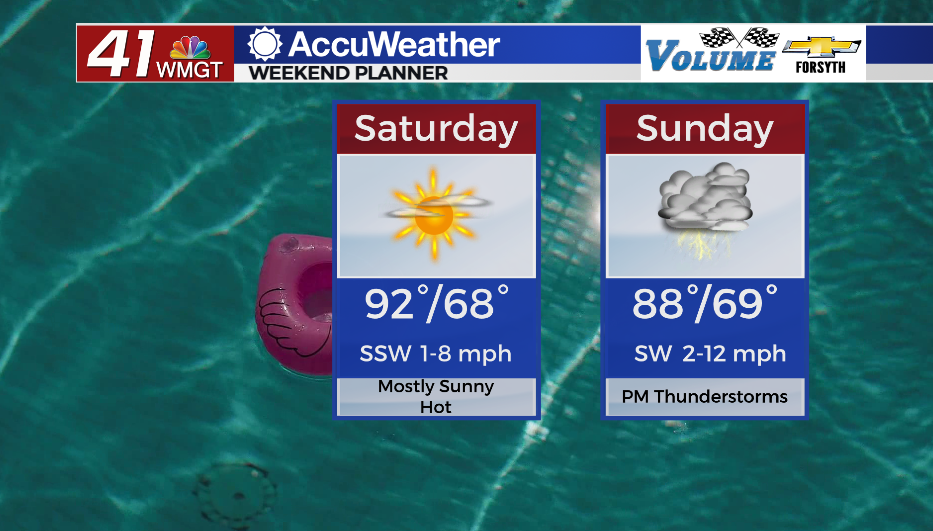 MACON, Georgia (41NBC/WMGT) – Hot and sunny conditions will stay with Middle Georgia Saturday before scattered storms move in Sunday afternoon.
Tonight

Skies will be clear across the region with temperatures reaching their valley for the week in the upper 50s and lower 60s. Winds will be shifting from the northeast to the southeast overnight at a clip of about 5 mph.
Saturday

Middle Georgia will see plenty of sunshine with some scattered cloud cover in the afternoon and evening. Temperatures should reach into the lower 90s for most of the region. While rain is unlikely while the sun is out, winds from the southwest around 5 mph will slowly return moisture to the region throughout the day. Cloud cover will increase overnight with temperatures only falling into the upper 60s. A couple of small showers will be possible after midnight.
Sunday

Following a mostly cloudy start around the region Middle Georgia will see temperatures climb into the upper 80s with winds out of the southwest up to 15 mph to accompany them. Storms will start firing up in the late lunchtime hours and likely last through the evening. While not everyone in Middle Georgia will see rain, most of the region will at least see a drizzle/hear some thunder. Overnight some storms will linger with overnight lows in the upper 60s likely. Some patchy fog could form up overnight as well and carry into the early parts of Monday.
Follow Meteorologist Aaron Lowery on Facebook (Aaron Lowery 41NBC) and Twitter (@ALowWX) for weather updates throughout the day. Also, you can watch his forecasts Monday through Friday on 41NBC News at Daybreak (5-7 a.m.) and 41Today (11 a.m).