High pressure systems keeps the southeast feeling hot and humid
MACON, Georgia. (41NBC/WMGT) – Last week, we had a taste of fall with much lower humidity and cooler air following a cold front.
This week, summer declares that it's not over yet as temperatures climb back into the 90's and moisture streams back in across the southeast.
A high pressure system will build up across the east coast, heating the air and pulling moisture from the Atlantic Ocean over the Deep South.
Pop-up showers will possible each day this week, but there are no big chances for widespread rain.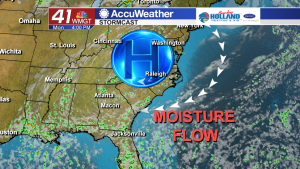 More moisture in the atmosphere will result in higher humidity, making it feel even hotter than actual temperatures.
While most locations will reach a high temperatures in the low-mid 90's Monday, the higher humidity will make it feel closer to 100.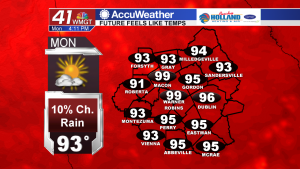 With this high pressure system dominating weather in Middle Georgia for much of the week, there will be no drastic changes within the next seven days.
Temperatures will top out in the low 90's with a chance for pop-up showers/storms each day.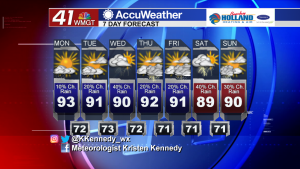 Connect with Meteorologist Kristen Kennedy on Facebook and Twitter for weather updates throughout the day. You can also watch her forecasts Monday through Friday on 41NBC News at Daybreak (5-7 a.m.) and 41Today (11 a.m.).