High pressure pushes Gordon west, keeps Middle Georgia hot and humid
MACON, Georgia. (41NBC/WMGT) – Tropical Storm Gordon strengthened overnight and is charging towards the Gulf Coast.
Early Tuesday morning, the Hurricane Hunters of the Air Force Reserve found that Gordon had sustained winds of 65 mph and was moving west/northwest at roughly 17 mph.
Hurricane warnings are in place along the Mississippi and Alabama Gulf Coast. Meanwhile, tropical storm warnings are in effect along the western Florida panhandle and coast of Louisiana.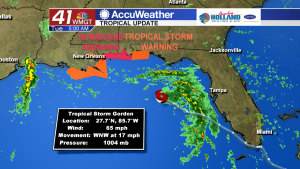 A high pressure system along the east coast will continue steering Tropical Storm Gordon westward. This high will essentially block Gordon from shifting its track eastward.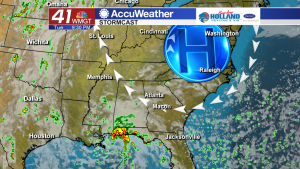 Tropical Storm Gordon will likely continue strengthening over the warm waters of the Gulf of Mexico.
Gordon is forecast to reach Category 1 Hurricane status (sustained winds of at least 74 mph) as early as Tuesday afternoon. It is likely that Gordon will make landfall along the Gulf Coast as a hurricane and then weaken as it moves over land.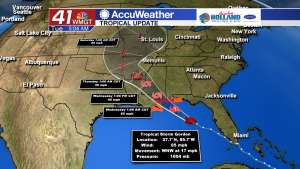 Gordon is not forecast to have any impact on Middle Georgia, though if the tropical storm's path shift northward, that could change.
The high pressure system to the northeast will keep conditions hot and humid with the chance for pop-up showers and storms daily.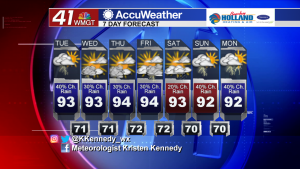 Connect with Meteorologist Kristen Kennedy on Facebook and Twitter for weather updates throughout the day. You can also watch her forecasts Monday through Friday on 41NBC News at Daybreak (5-7 a.m.) and 41Today (11 a.m.).