Freeze Watch: Freezing temperatures possible in Middle Georgia Wednesday morning
MACON, Georgia (41NBC/WMGT) – A high pressure system setting up across the mid-west will have a big effect on the weather in the southeast this week.
One big difference in the forecast this week will be the lack of precipitation. High pressure will make air sink and compress, so there will be very little moisture in the atmosphere.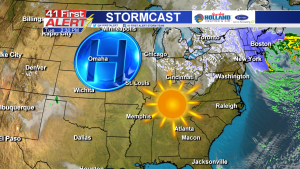 The system will also have a major impact on temperatures.
Throughout the day Tuesday, the high pressure system will slowly start to slip south. Winds around this system will be clockwise, coming from the northwest in Middle Georgia. This wind flow will allow colder air from the north to travel south.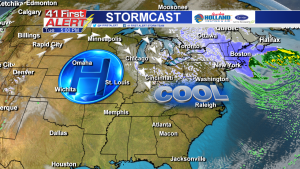 Temperatures across the southeast Wednesday morning will drop into the low 30's, with some location dipping below freezing.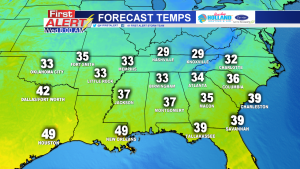 The National Weather Service in Peachtree City has included several Middle Georgia counties in a Freeze Watch Wednesday from 4-10 a.m. Those counties include: Crawford, Monroe, Bibb, Jones, Twiggs, Wilkinson, Baldwin, Hancock and Washington.
Freezing temperatures could damage early spring vegetation and pose a threat to outdoor pets. Bring in plants if you can and don't leave your pets outside overnight.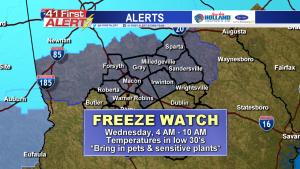 Later this week, the high pressure system will move over the Gulf and winds will shift to the south. Warm air will start to flow over Middle Georgia again, and temperatures will trend upwards heading into the weekend.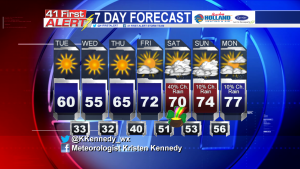 Connect with Meteorologist Kristen Kennedy on Facebook and Twitter for weather updates throughout the day. You can also watch her forecasts Monday through Friday on 41NBC News at Daybreak (5-7 a.m.) and 41Today (11 a.m.).