Heat dome builds over the southeast, drier air hangs around this week
MACON, Georgia. (41NBC/WMGT) – All summer long, humidity has played a major role in the forecast here in Middle Georgia. This week, drier air will filter down south as a ridge of high pressure builds up over the eastern half of the lower 48 states.
The high pressure system will cause air to sink and compress, resulting not only in higher temperatures during the afternoon hours but also more sunshine than cloud cover.
As long as the high pressure system is sitting over the east coast, the weather in Middle Georgia this week will be pretty quiet with little changes daily.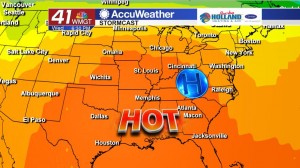 Wind flow around a high pressure system is clockwise, so there will be a northeasterly wind in Middle Georgia Wednesday.
This wind pattern will allow drier and cooler air to slip south, dropping dew points in the afternoon hours.
While it will be hot, it won't feel even hotter than the actual temperature since humidity will be lower this week.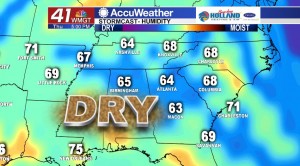 The normal afternoon high in Macon September 19-25 is 85 degrees. However, there are no 80's in the forecast over the next seven days.
Instead, temperatures will be anywhere from 5-15 degrees higher.
Stay cool, Middle Georgia!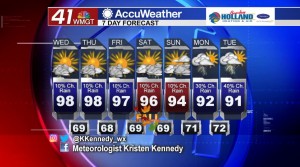 Connect with Meteorologist Kristen Kennedy on Facebook and Twitter for weather updates throughout the day. You can also watch her forecasts Monday through Friday on 41NBC News at Daybreak (5-7 a.m.) and 41Today (11 a.m.).