Heat Advisory issued for Middle Georgia, dangerous heat expected
MACON, Georgia. (41NBC/WMGT) – Tuesday is going to be a "Georgia Scorcher" for the central portion of the state.
High temperatures are forecast to reach the low-mid 90's, but high humidity will make it feel even hotter.
During the afternoon hours, it could feel as hot as 102-107 degrees across Middle Georgia.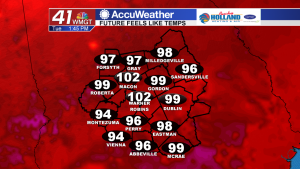 Because high temperatures and high humidity will make it feel extremely hot today, a Heat Advisory has been issued for all of Middle Georgia until 7 p.m. Tuesday.
Beat the heat and follow these safety tips:
Avoid strenuous activity, if you can
Wear light-weight and light colored clothing
Stay hydrated, drink water
Wear sunscreen and apply it regularly
Take breaks in the shade or inside
Never leave people or pets inside vehicles
Check on your neighbors, especially the elderly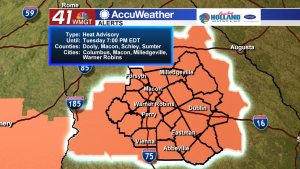 Temperatures will start to trend downhill the next few days, dropping to about 90 degrees Sunday.
Rain chances remain around 30-40% (isolated to scattered showers and storms) daily.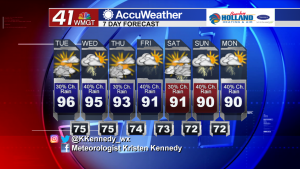 Connect with Meteorologist Kristen Kennedy on Facebook and Twitter for weather updates throughout the day. You can also watch her forecasts Monday through Friday on 41NBC News at Daybreak (5-7 a.m.) and 41Today (11 a.m.).