Man arrested near Hartley Bridge Rd for possession of stolen gun
MACON, Georgia (41NBC/WMGT) – Bibb County Sheriff's deputies arrested a Peachtree Corners man with a stolen gun around 4:45 a.m.
Deputies say they stopped a silver Ford Fusion for speeding near Hartley Bridge Road. They identified the driver as 35-year-old Christopher Jermaine Magee.
Deputies say that they saw a pistol in the car.
Authorities say that deputies used a K-9 to search the car. Deputies say that the K-9 found a residue of marijuana in the car.
Authorities say that deputies checked the gun. They discovered it stolen out of Port Saint Lucie Police Department of Florida in 2017.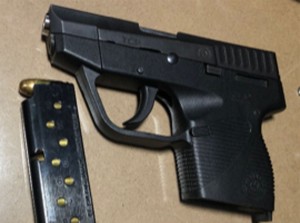 Deputies arrested Magee and took him to the Bibb County Jail. Authorities charged Magee with Theft by Receiving Stolen Property Felony.
Magee is being held on a $4,050.00 bond. Authorities issued Magee a warning citation for the speeding.
Anyone with information
If you have information about this incident, call the Bibb Sheriff's Office at 478-751 -7500. You can also call the Macon Regional Crimestoppers at 1-877-68CRIME.