GMC Prep School honors lives lost during 9/11
MILLEDGVILLE, Georgia (41NBC/WMGT) – Middle Georgia is taking time to remember the first responders, soldiers, and citizens who lost their lives in 9/11.
Georgia Military College Prep School students, parents, and staff gathered at their 7th Annual Patriot Day Ceremony to honor those men and women Friday morning.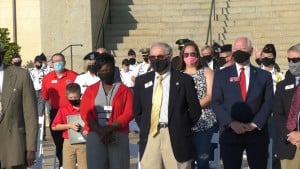 "It's really difficult to talk about because most of us lost our innocence when this day hit," said John Jackson, GMC parent.
Although the tragedy still weighs heavy for Jackson after 19 years, he showed gratitude toward the school for awarding his daughter with a scholarship for his active role during 9/11.
"To see her here at GMC with the philosophies for bringing up our next generation makes me feel proud, especially when there's hope that's being lost," Jackson said.
President William B. Caldwell expressed the importance of not forgetting what happened. He says the class of 2021 will be the first graduates not born during the 9/11 attacks.
"This is the day we do not want to forget. But somehow 19 years, later it's a promise that continues to get harder to keep," Caldwell said. "All of you, as Colonel Seagraves said, we're not born on that date. So it's up to all of us here to use this anniversary that we call Patriots Day to renew our commitment to remembering a day that was unlike any other."
On the sidewalks, GMC students wrote the names of 3,025 people whose lives lost on 9/11. They also wrote over 6,800 names of those who gave their lives trying to prevent another attack.