Georgia peach industry faces trying season: "This is the worst crop I've ever seen."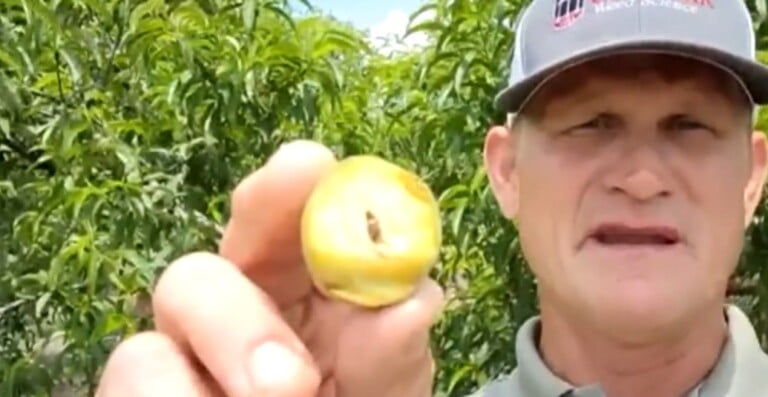 (NBC News/WXIA)- Farmers across the state of Georgia are bracing for a challenging peach season due to adverse weather conditions earlier this year. Consumers may face limited availability of locally grown peaches at grocery stores this summer as the impact of the weather takes its toll on the crop.
Jarl Echols, co-owner of Jaemor Farms, expressed concerns about the dwindling peach harvest. "People won't be able to buy bushels, but they'll be able to buy a pack of peaches, at most," Echols stated, highlighting the scarcity of this year's crop.
Jaemor Farms, like many others, has experienced the negative effects of unpredictable weather patterns. Echols explained, "This has been a little bit of an unusual year. We had a pretty hard freeze at Christmas… We had about a month early bloom here because it got so warm in February."
To compound the issue, another freeze in March further decimated the peach trees, leaving them almost barren. Echols lamented the consequences, remarking, "The last freeze really hammered just about everything we had. We're in pretty good shape on a few varieties, but not really good overall, probably somewhere around a 90% kill, like most of Georgia is."
This setback comes on the heels of a complete wipeout experienced by Echols and other farmers in 2021. Southern Belle Farms in McDonough reported similar losses, while farmers in middle Georgia witnessed a devastating 95 percent crop loss.
Jeff Cook, the University of Georgia Peach Agent, described the situation as the worst crop he has ever seen. Cook highlighted the substantial economic impact on the industry, especially for farmers and H2-A visa workers, stating, "For this area right here, it's about a $45 million impact. If you expect $100,000 salary for a year and then you get two freezes and salary's knocked down to 50, it has a big impact."
During seasons of short crops in Georgia, farmers typically rely on sourcing peaches from the Carolinas. However, Cook noted that even the Carolinas are grappling with their own struggles, leaving California as a potential alternative for grocery stores seeking peaches.
"We don't have a fruit to protect anymore. We've only got trees to protect. So, you know, we're cutting corners in our orchards where we can," Cook explained, underscoring the challenges faced by peach farmers in maintaining their orchards amidst the difficult circumstances.
As Georgia's peach industry braces for a trying season, farmers and consumers alike remain hopeful for a more favorable outlook in the future. However, the immediate impact of this year's weather conditions leaves little room for optimism, and the consequences are likely to be felt throughout the state's agricultural landscape.