Georgia parents accused of starving 10-year-old child to near death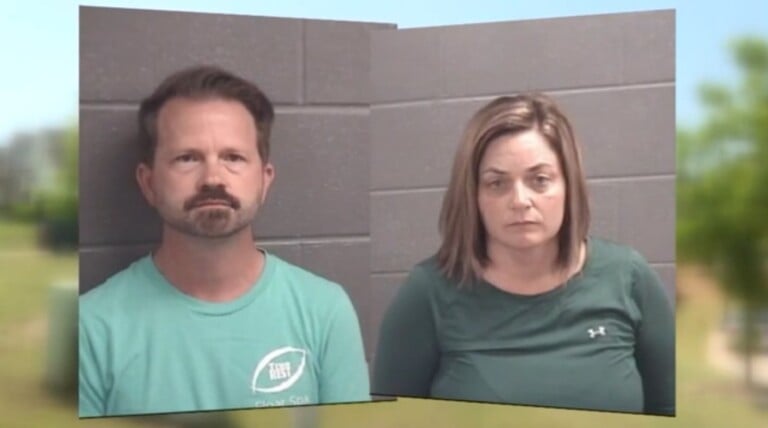 GRIFFIN, Georgia (CNN/WXIA)- In a shocking case just south of Atlanta, two parents are facing charges for allegedly intentionally trying to starve their ten-year-old child to death. The incident has left neighbors and authorities appalled, highlighting the gravity of the situation.
Kim Seigler, who lives next door to Krista and Tyler Schindley, the accused parents, expressed her shock and distress over the horrifying ordeal. "I can't explain to you how shocked we were, okay. I've really been affected by this," Seigler said, struggling to find words to describe the disturbing situation.
During a news conference on Tuesday, the district attorney became emotional while addressing the case. "This case is disturbing. It's heartbreaking. I have tried many child abuse cases in my career and this child was, simply put, being starved to death," stated the district attorney, emphasizing the severity of the allegations.
The incident came to light on Friday morning when a neighbor spotted a small barefoot boy walking in the road. Recognizing the dire situation, the neighbor quickly intervened, picking up the malnourished child and immediately calling 911. The young boy pleaded with the police not to send him back home.
"To give you some context, I have a nine-year-old, and she currently weighs 76 pounds. This 10-year-old little boy weighed 36," shared the district attorney, providing a harrowing comparison between the emaciated child and a healthy child of similar age.
Warrants allege that the child had been locked away for days at a time over several years, deprived of food, water, toilet paper, and even light. Disturbingly, Seigler mentioned that the couple also had a teenage son who has been missing since January. The last time they saw him was shortly after a devastating EF3 tornado hit the neighborhood, causing power outages for weeks. The teenage boy had sought refuge at Seigler's home and used their phone to call his parents, who allegedly claimed to be on a cruise and unaware of his well-being. Seigler revealed that when the couple returned from their cruise, they left the next night with their camper, leaving the whereabouts of the teenage son unknown.
The child is now safe and receiving medical attention. The accused parents are in custody, facing severe charges related to child abuse and endangerment.