Freeze Warning for Middle Georgia Overnight
MACON, Georgia. (41NBC/WMGT) – The National Weather Service has issued a FREEZE WARNING for Middle Georgia ahead of frigid temperatures. The warning goes into effect tonight at 11 p.m. and will continue through tomorrow morning at 8 a.m.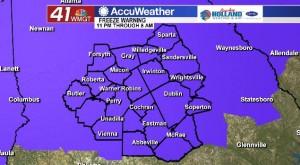 For the first time since April 5, temperatures will plunge towards the freezing mark. Overnight temperatures will cool into the upper 20's and low 30's. Add in a light wind from the northwest at 5-10 mph and the "Feels-Like" temperatures will be in the mid 20's to start off Friday morning. Freezing temperatures could damage sensitive plants and unprotected outdoor plumbing. Don't forget to bring your pets inside as well!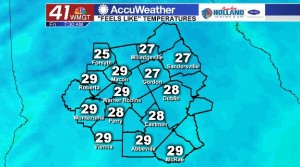 Connect with Meteorologist Dalton Mullinax on Facebook (Dalton Mullinax 41NBC) and Twitter (@MullinaxWX) for weather updates throughout the day. You can also watch his forecasts Monday through Friday on 41NBC News at Daybreak (5-7 a.m.) and 41Today (11 a.m.).