Fall-like weather for the remainder of the week in Middle Georgia
MACON, Georgia. (41NBC/WMGT) – After a very hot start to the week, fall-like weather is in the forecast for the remainder of the week in Middle Georgia.
Tuesday afternoon, Macon broke a record for high temperature after topping out at 92 degrees. The previous record high of 88 was set three years ago in 2015.
The summer-like weather is now gone from the forecast. Instead, fall-like weather will settle in to Middle Georgia as two cold fronts work together to provide the southeast with a big cool down.
The first front is moving into northern Florida while a second front will be pushing into the Peach State throughout the day.
This second cold front will reinforce cooler, drier air into the Deep South for the foreseeable future.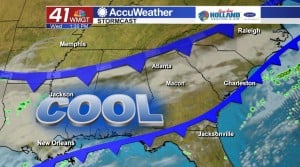 Temperatures the next few days will continue to drop, in the morning and afternoon. Thursday and Friday morning lows will be in the low-mid 50's, and the afternoon temperatures will be in the low-mid 70's.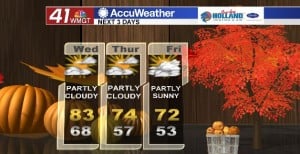 Rain chances will be limited through the next seven days. Isolated to scattered showers may occur on Saturday and Tuesday, but other than that, it'll be pretty dry in Middle Georgia.
Enjoy the cooler weather, fall fans!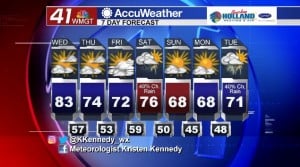 Connect with Meteorologist Kristen Kennedy on Facebook and Twitter for weather updates throughout the day. You can also watch her forecasts Monday through Friday on 41NBC News at Daybreak (5-7 a.m.) and 41Today (11 a.m.).