Fairview Park Hospital and Navicent Health receive Covid vaccine shipments
MACON, Georgia (41NBC/WMGT)— Hospital systems in Middle Georgia are getting shipments of COVID Vaccines.
Navicent Health got theirs Monday after Fairview Park Hospital in Dublin got theirs last week. Don Avery, CEO of Fairview Park Hospital said they plan to vaccinate the whole staff with their shipment.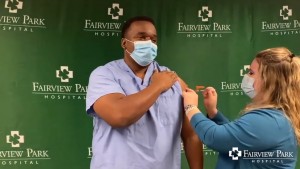 "I believe having the vaccine, it's an overused phrase but it's a game changer," said Avery.
Michael Hokanson, Public Information Officer with North Central Health District, said they haven't gotten their shipment yet and that they have no timeline as to when it will come in. He says the Moderna vaccine being approved for emergency use will help with hospitals who might not have access to the cold storage the Pfizer vaccine requires.
"This Moderna vaccine will definitely help those area rural counties, we know rural areas have been hit pretty hard throughout this so getting those supplies into those communities is essential to helping spread of COVID," said Hokanson, "especially during this time when we're seeing large increases throughout the state of Georgia."
Hokanson said with vaccines being approved for emergency use means the benefits of using the product outweigh the risks.
"Both manufacturers and all manufacturers will go and continue to report on what they're seeing through their clinical trials to the FDA and CDC so that more information can be pushed out about these vaccines," said Hokanson.
Avery said vaccines are the way to defeat the pandemic.
"Pandemics are not overcome or eliminated by masking and social distancing," said Avery "we defeat pandemics with vaccines. History has shown us that."
But he says even with vaccines available, it's not the time to stop following pandemic restrictions.
How to stop the spread of COVID
Wear a mask
Social distance
Avoid crowds and large gatherings
Wash your hands
Frequently clean high touched surfaces
Hokanson said it will be several months before the vaccine is available to the general public.
"We want everyone to be vaccinated but it's going to take some time so we ask for the patience of our communities," said Hokanson, "we're doing what we can we're reliant on suppliers as well as the recommendations from federal authorities that are higher than us but we want everyone to be protected."
Avery thinks pandemic restrictions can be lifted by the summer, but that would mean 70 percent of the U.S. population is vaccinated.
"It's been a difficult 2020, 2021 we know more people are doing better in treatment and again if people would just hang in there for several more months I think we'll see the end of this pandemic," said Avery.
Right now vaccines are only being administered to healthcare workers and people living and working in long term care facilities.