Dry Work Week Ahead
MACON, Georgia. (41NBC/WMGT) – After a rainy, and at sometimes stormy weekend, our area will dry out for an extended period.
Today.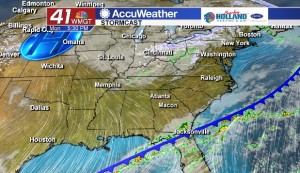 We are still dealing with a few lingering showers and areas of patchy fog to start your Monday morning commute. These isolated showers are being triggered along a stalled out cold front just to the southeast of Middle Georgia. As this front slowly drifts further to the south we will begin to see more sunshine into the afternoon hours. This will allow for temperatures to head back into the upper 60's. Yesterday we were in the upper 70's across much of the area. Clouds will be decreasing as the days go along and that will continue into the overnight hours where I am expecting a mostly clear sky. With clearing conditions and cooler air on the way temperatures will start off in the mid-to-upper 30's across Middle Georgia on Tuesday morning.
Tomorrow.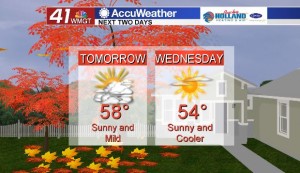 Tuesday is going to be a gorgeous fall day in Middle Georgia! While temperatures will be below average in the mid-to-upper 50's, it is going to feel very comfortable. I am expecting a sunny sky with a slight breeze coming in out of the northwest. Tuesday will set the stage for the rest of the week as Middle Georgia welcomes in a dry work week with seasonal temperatures.
Extended.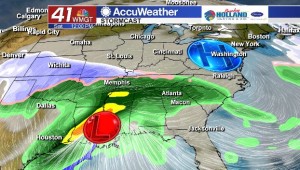 After another dry work week, rain will again return to Middle Georgia as we head into the weekend. An area of low pressure is going to be moving along the coast of the Gulf of Mexico that will give us another chance of rain. Rain chances increase as we head into Friday evening. Widespread rain is expected on Saturday as the area of low pressure passes just to our south along the Georgia and Florida border. Showers will hang around on Sunday as temperatures will struggle to get out of the low 50's.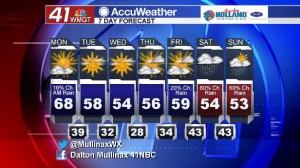 Connect with Meteorologist Dalton Mullinax on Facebook (Dalton Mullinax 41NBC) and Twitter (@MullinaxWX) for weather updates throughout the day. You can also watch his forecasts Monday through Friday on 41NBC News at Daybreak (5-7 a.m.) and 41Today (11 a.m.).