Dry Weekend Ahead for Middle Georgia
MACON, Georgia. (41NBC/WMGT) – Once the cold front that has caused rain showers passes, drier air will begin to move in for the weekend.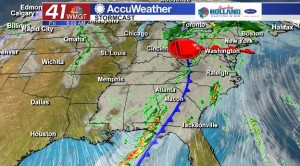 After a soggy Thursday and Friday, conditions will begin to improve in Middle Georgia as the cold front passes through and drier air from the northwest feeds into our area. Friday afternoon will consist of showers that will last until the early evening, so if you have outdoor plans Friday night don't cancel them, but you may want to bring a light jacket because temperatures are going to dip into the low 40's overnight.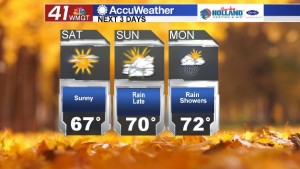 This weekend looks great! On Saturday you can expect an abundance of sunshine with temperatures topping out in the upper 60's. While Saturday afternoon will be mild, Saturday night will be cool as temperatures again fall into the low 40's. Sunday appears to be mostly sunny, but I am monitoring a chance of rain for late Sunday evening into early Monday morning.
Next Week Looks Wet.
The work week starts off wet as our next cold front begins to move towards us. We will continue to monitor the potential for more storms on Tuesday. The rain chances on Wednesday will be confined to the morning hours. After the rain moves out on Wednesday we will be dry for a couple of days until rain returns next weekend.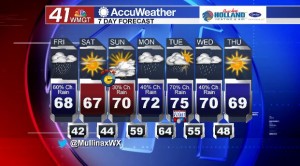 Connect with Meteorologist Dalton Mullinax on Facebook and Twitter (@MullinaxWX) for weather updates throughout the day. You can also watch his forecasts Monday through Friday on 41NBC News at Daybreak (5-7 a.m.) and 41Today (11 a.m.).