Dry weather Wednesday before rain chances rise in Middle Georgia
MACON, Georgia. (41NBC/WMGT) – Rain chances will increase by the end of the work week in Middle Georgia, but in the meantime, dry weather ensues Wednesday.
Tuesday night into Wednesday morning, a cold front moved from north to south. This cold front helped to clear out all the clouds we saw across the Deep South Tuesday.
The sky remains mostly clear this morning, minus a few cirrus clouds, perhaps.
Lots of sunshine is in the forecast for Hump Day. Temperatures will rise from the upper 40's before sunrise to the mid-70's during the peak afternoon hours.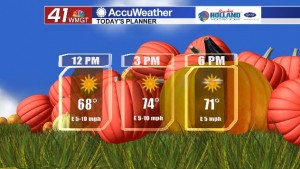 While Wednesday's weather will be nice, be aware that the weather will be MUCH different Thursday and Friday.
A low pressure system is developing in the northern Gulf of Mexico. This system will produce two associated front: (1) a warm front and (2) a cold front.
The warm front will effect Middle Georgia's weather first, forcing moisture from the Gulf to move over the southeast.
Widespread showers and some storms are in the forecast late Thursday through Friday morning.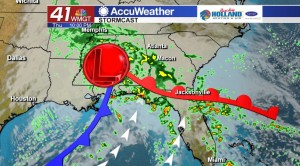 At the same time that rain is expected in Middle Georgia this week, colder air will be flowing in from the northeast thanks to a high pressure system creating a wedge.
Keep your rain gear handy the next couple days, because this week will end on a wetter and colder note.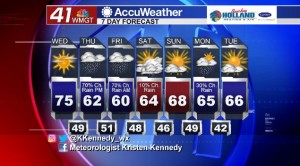 Connect with Meteorologist Kristen Kennedy on Facebook and Twitter for weather updates throughout the day. You can also watch her forecasts Monday through Friday on 41NBC News at Daybreak (5-7 a.m.) and 41Today (11 a.m.).