Drier conditions to take over Middle Georgia ahead of the weekend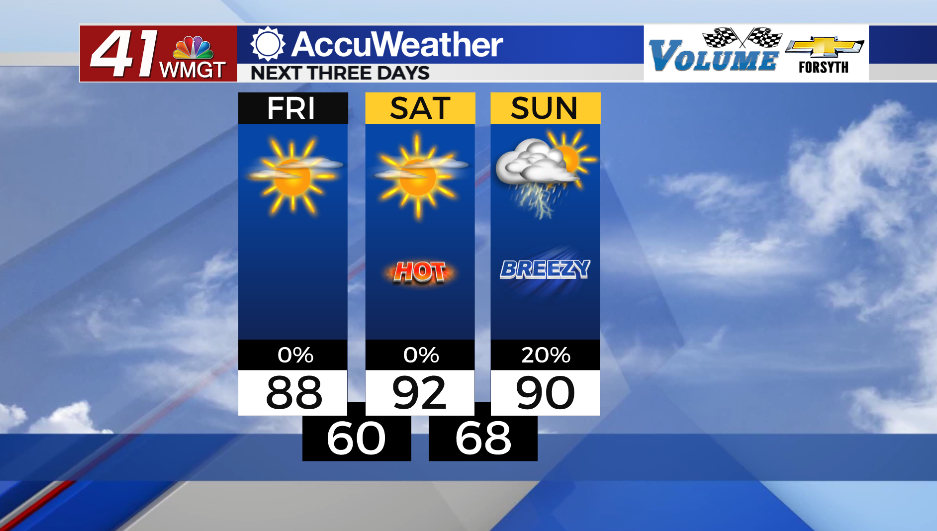 MACON, Georgia (41NBC/WMGT) – Drier conditions as well as some wildfire haze will move into Middle Georgia following the passing of a cold front Thursday.
Tonight

Mostly clear conditions are likely overnight tonight following a weak cold front passage this afternoon. Storm activity was limited by particles of smoke brought south by the northerly winds from Canada. Temperatures will drop into the lower 60s overnight with ambient winds from the north around 5 mph.
Tomorrow

There should be a good amount of sun overall for our Friday, however milky white skies will be possible thanks to wildfire smoke brought southward by northerly winds. Expect the winds to generally remain out of the north Friday afternoon at around 5-10 mph. Temperatures will peak in the upper 80s across the region. Rain is highly unlikely due to the drier conditions and presence of smoke particles.
Overnight winds will shift more towards the northeast at around 5 mph. Temperatures will reach their valley for the week in the upper 50s and lower 60s under clear skies.
The Weekend

Saturday will see winds shift to the southwest, helping to clear any haze from the area as well as move moisture into the region. Temperatures will reach into the lower 90s, however storms are unlikely during the afternoon. A couple of showers could be possible overnight and into Sunday morning as cloud cover returns. Temperatures will only fall into the upper 60s, almost 10 degrees up from Friday night.
Sunday looks to be a relatively cloudy day with highs in the upper 80s and lower 90s. Scattered storms will be possible in the afternoon and evening with some showers and a couple isolated storms overnight. A hot and humid pattern looks to carry into next week.
Follow Meteorologist Aaron Lowery on Facebook (Aaron Lowery 41NBC) and Twitter (@ALowWX) for weather updates throughout the day. Also, you can watch his forecasts Monday through Friday on 41NBC News at Daybreak (5-7 a.m.) and 41Today (11 a.m).