Drier air slips into Georgia, less widespread storms through Sunday
MACON, Georgia. (41NBC/WMGT) – The stationary front that's been sitting across the Deep South the last few days will finally be overcome by another cold front.
This next cold front will produce isolated pop-up showers and storms Wednesday afternoon.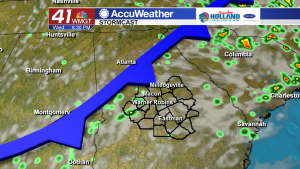 The cold front will also bring in drier air to much of the southeast. However, the drier air will be limited to north Georgia.
Moisture resulting in higher humidity will remain over Middle Georgia and closer to the east and Gulf coast.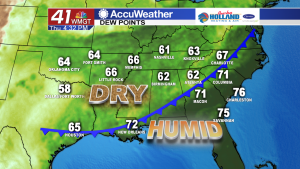 Unfortunately this second front is likely to stall out across Middle Georgia again, keeping humidity in the forecast for the next several days.
Rain chances will be slightly lower through the weekend (20-30%) as isolated showers and storms will be possible. Widespread rain is not likely.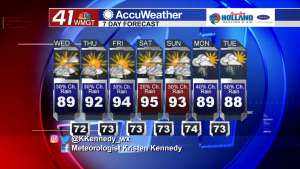 Connect with Meteorologist Kristen Kennedy on Facebook and Twitter for weather updates throughout the day. You can also watch her forecasts Monday through Friday on 41NBC News at Daybreak (5-7 a.m.) and 41Today (11 a.m.).