Disney Plus series 'Genius: MLK/X' to begin filming in downtown Macon next week
The series will explore the parallel lives of Dr. Martin Luther King Jr. and Malcolm X, with Macon serving as the backdrop for the civil rights era setting.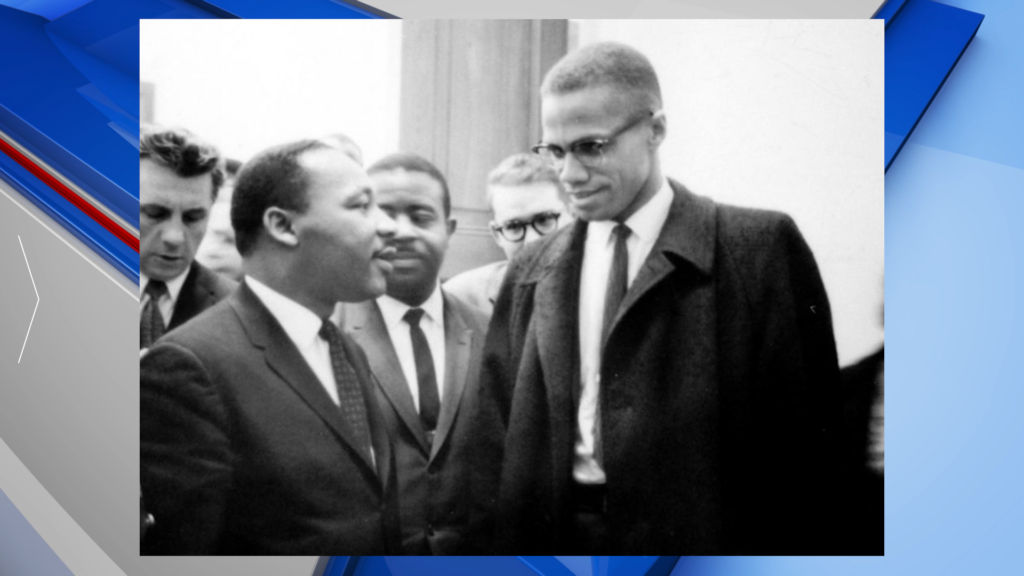 MACON, Georgia(41NBC/WMGT) – Crews will begin filming a new season of a Disney Plus series in downtown Macon next week.
"Genius: MLK/X" will tell the stories of Dr. Martin Luther King Jr. and Malcolm X, exploring the parallel of their lives.
According to Harold Young, the Executive Director of the Tubman Museum in Macon, the series is an important comparison.
"Malcolm X wasn't by any means peaceful, and Martin Luther King was the peace maker, so you got someone who is very radical as far as let's take it by force, and you have another person who wants to do it by peace talk," Young said. "There's two ways of doing things: by force or by peace, but the thing about it is they both wanted the same thing: equal justice for all."
Macon has been chosen as the backdrop for the series, with production crews selecting the city to gain the look of the civil rights era.
Aaron Buzza, the Vice President of Visit Macon, says the downtown area has been a popular choice for many films because of its iconic scenery.
"Largely because we have a wealth of historical buildings, especially in the downtown area," Buzza said. "So if they're trying to shoot something in a particular time period, it's really easy to do here in Macon."
The series is also expected to bring foot traffic to local restaurants and businesses.
Mike Seekins, the owner of Famous Mike's restaurant, says he's looking forward to the possibilities of even more production coming to town.
"Visit Macon has done such a great job with all the things they do to bring different things to Macon," he said. "It's very exciting."
While the series will tell a difficult story with depictions of violence and police brutality, Young says it's important to remember this is part of history.
"During those times in the civil rights movement, there was a lot of violence, there were a lot of riots, there were a lot of attack dogs on human beings, there were a lot of water hoses on human beings," Young said. "We can't erase that. It's history. That's what happened during that time."
Prep for production began on Thursday and crews will film on January 30 and 31.
Roads will be closed in these areas of downtown:
Friday, January 27, 2023
Parking lane closure on west side of northbound Mulberry Street from Second Street, north a distance of 100 feet
Parking lane closure eastbound Poplar Street for half a block from Second Street to crosswalk
Sunday, January 29, 2023
Parking lane closure on northbound Second Street from Cherry Street to Mulberry Street Lane
Monday, January 30, 2023
Macon-Bibb County Courthouse Interior Access
Full Closure of Mulberry Street between First Street and Second Street
Parking lane closures on both northbound parking lanes of Mulberry Street south of 2nd Street for half a block
Parking lane closures on both sides of Second Street between Mulberry Street and Walnut Street
Intermittent Traffic Control on intersection of Second Street and Mulberry Street
Parking lane closures on both sides of Mulberry Street from Second Street to New Street (Parking lanes between First Street and Second Street included in Mulberry Street closure)
Intermittent Traffic Control on Mulberry Street between New Street and Second Street
Intermittent Traffic Control on First Street between Mulberry Street Lane and Walnut Street Lane
Parking lane closure on northbound Second Street from Cherry Street to Mulberry Street Lane
Parking lane closure of west side parking lane on southbound Poplar Street between Second Street and Third Street
Tuesday, January 31, 2023
Full closure of Second Street between Mulberry Street and Cherry Street
Closure Cotton Avenue
Parking lane closures on both sides of Second Street from Cherry Street west for half a block
Parking lane closures on both sides of Cherry Street from Second Street to Cotton Avenue
Parking lane closures on both sides of Cherry Street from Second Street South for half a block
Intermittent Traffic Control requested on Cherry Street between Cotton Avenue and Second Street
Closure of southbound Poplar Street between Second Street and Third Street
Parking lane closure on west side of northbound Poplar Street between Second Street and Third Street
Parking lane closure on west side of northbound Mulberry Street from Second Street going north a distance of 100 feet
Wednesday, February 1, 2023
Parking lane closure on westbound Second Street from Cherry Street to Mulberry Street Lane
Parking lane closure eastbound Poplar Street half-block from Second Street to crosswalk