Two days until the official start of Fall, Mother Nature thinks otherwise…
MACON, Georgia. (41NBC/WMGT) – The first day of Fall is just two days away, officially beginning at 9:54 p.m. on Saturday, September 22. However, Mother Nature is not prepared to act accordingly and provide Middle Georgia with fall-like weather.
Instead, the heat will continue this week.
Skies will remain mostly clear, showing more sun than clouds. As a result, temperatures are forecast to climb into the middle and upper 90's again Thursday afternoon.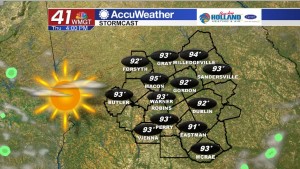 Drier air will remain in place for the next few days. The morning hours will feel especially nice as temperatures dip into the 60's. The afternoons will be hot, but it will be a hot-dry versus a hot-humid feeling.
A cold front will push south this weekend, eventually bringing better chances for rain and storms to Middle Georgia.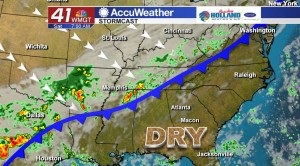 An increase in rain chances from the next frontal system and more clouds across Middle Georgia will result in a drop in temperatures and humidity returning to the forecast next week.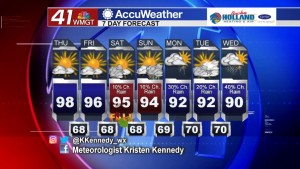 Connect with Meteorologist Kristen Kennedy on Facebook and Twitter for weather updates throughout the day. You can also watch her forecasts Monday through Friday on 41NBC News at Daybreak (5-7 a.m.) and 41Today (11 a.m.).