Group launches 'Count Five' voter registration campaign
MACON, Georgia (41NBC/WMGT) – One group has launched a creative new campaign to encourage voter registration for the Nov. 3 general election.
It's called the "Count Five" voter registration campaign.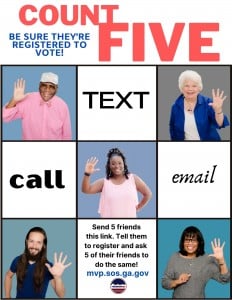 Campaign organizers ask that local voters to text, call, or email five friends and remind them to register to vote. In turn, the five friends will do the same.
President of Georgia Women Claire Cox says the initiative helps reach more people during the pandemic.
"The idea of this is to create a web throughout our community by reaching five people, and those people reach five people, then we are going to reach others further into the community," Cox said.
Upcoming events
Members of Georgia Women's Civic Engagement Work Group created the campaign. They also plan to host other events such as a "Vote Early Macon-Bibb Caravan" of decorated cars through Macon neighborhoods on National Vote Early Day Oct. 24.