Cooler, drier conditions bring fire danger
Happy Thursday! After 2 days of record temps this week Middle Georgia will finally get a break! Cooler air will be moving in Friday behind a dry cold front. This front will be lowering dewpoints (making the air much drier) as well as bring some breezy/gusty conditions to the area. The drier air and breezy conditions, combined with the continuing drought will enhance fire danger Friday. A Red Flag Warning has been issued for Friday from 10am-7pm. A burn ban is already in place in most of these areas but please be mindful that any fires that are started in these conditions could spread very quickly.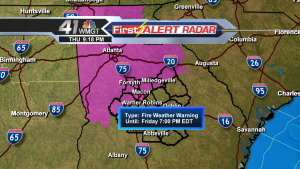 The good news, though is that it will finally feel like football weather Friday night! Make sure you bring a jacket to cheer on your favorite team!
Chief Meteorologist, Cecilia Reeves