Commissioners respond to fellow commissioner's controversial Facebook comment
MACON, Georgia (41NBC/WMGT)- Community members are asking for Macon-Bibb Commissioner Joe Allen's resignation after a controversial Facebook post.
Allen apologized for the Facebook comment saying, police should shoot to kill when protests become destructive.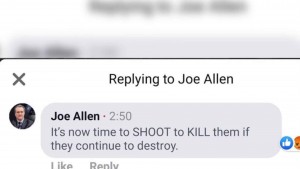 "I am very disappointed in my colleague," Commissioner Elaine Lucas said.
41NBC News reached out to commissioners to get their opinion on the issue. However, Elaine Lucas and Virgil Watkins only discussed the expectations of an elected official but did not comment on the resignation.
"I would expect that elected officials should be sensitive enough to what's going on in their community and among their constituents," Lucas said.
"When we are in leadership, we do need to be more tempered, not take a leisure reaction, folks are expecting us to think it all the way through, and trusting us to think it all the way through," Commissioner Virgil Watkins said. "And coming up with the long-term solutions."
Joe Allen issued several apologies, including another one Friday morning on Facebook.

"Nobody should make insensitive remarks about a situation like that," Lucas said.
Commissioner Allen is not seeking re-election in the upcoming June 9th election.