Cold air surges south following front, "feels like" temps near freezing
MACON, Georgia. (41NBC/WMGT) – After a grey and rainy week in Middle Georgia, nicer weather will return for the weekend! Colder air will surge south following the front, leading to dry and breezy conditions which will make it feel even colder than the actual temperatures reflect.
Clouds will clear overnight and temperatures will hover around 40 degrees early Saturday morning. Winds will come from the northwest at 5-10 mph and gust up to 15 mph.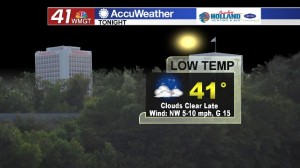 A high pressure system will move east over the weekend.
Saturday will be sunny but chilly as temperatures only top out in the upper 50's.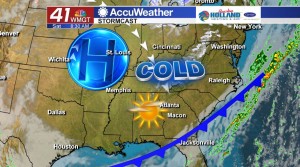 Sunday morning, however, will feel even colder!
Temperatures will drop into the middle-30's, but with winds from the east/northeast around 5-10 mph, it will feel more like freezing in some locations.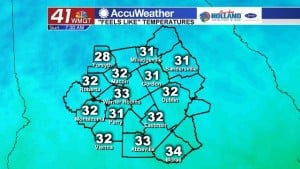 For now, it looks like the cooler air is here to stay. Temperatures are forecast to stay in the 50's and low 60's through the next week.
Rain and storms will return early next week before things dry out again.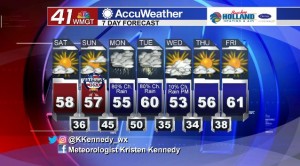 Connect with Meteorologist Kristen Kennedy on Facebook and Twitter for weather updates throughout the day. You can also watch her forecasts Monday through Friday on 41NBC News at Daybreak (5-7 a.m.) and 41Today (11 a.m.).