Clouds hang around Middle Georgia this week, but temperatures soar nonetheless
MACON, Georgia (41NBC/WMGT) – After a very cold start to the week in Middle Georgia, temperatures will trend upwards through Thursday.
The high temperature recorded in Macon yesterday (03/26/18) was 51 degrees. The reason it was so cold was because cold air trickled in from a back door cold front.
Starting Tuesday, warm and moist air will return flow back over the southeast. Because this air mass will be full of moisture, clouds will develop and sit over the southeast for the next few days (basically until our next cold front sweeps through Middle Georgia).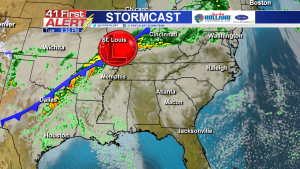 Regardless of the cloud cover, temperatures will still rise. High temperatures Tuesday will top out close to 70. Wednesday, however, the highs will break the 80's.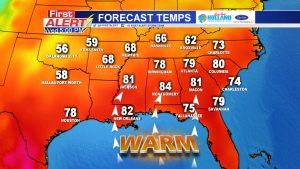 The cold front will start making its approach towards Georgia on Thursday. Isolated showers return to the forecast Thursday night, with the better chance for rain arriving on Friday. Some cooler and drier air will follow the frontal system, resulting in a mostly dry Easter weekend in Middle Georgia.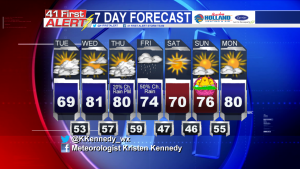 Connect with Meteorologist Kristen Kennedy on Facebook and Twitter for weather updates throughout the day. You can also watch her forecasts Monday through Friday on 41NBC News at Daybreak (5-7 a.m.) and 41Today (11 a.m.).