Children with special needs invited to experience prom in Milledgeville
Children with physical and intellectual disabilities will be treated to an evening of food, music and fun.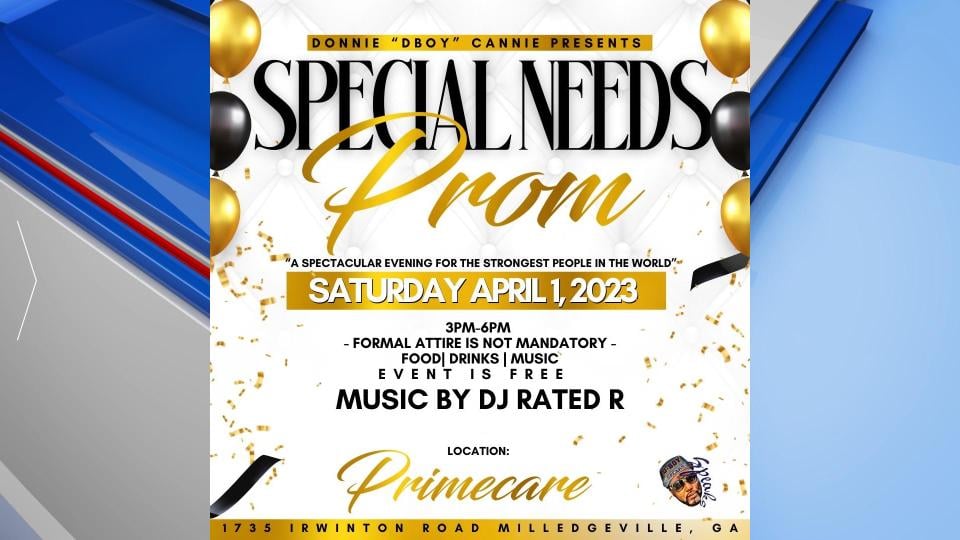 MILLEDGEVILLE, Georgia (41NBC/WMGT) – Children with special needs are invited to attend an evening of food, music and fun, thanks to the community of Milledgeville. Children with physical and intellectual disabilities will have a chance to experience prom night, Saturday.
Donnie Cannie created the event. His niece, Alyiah, is a special needs child. Cannie says his goal is to let special needs children know they are loved.
"They may can't do some of the things that we can do, but they're human just like us," said Cannie, "And I'm pretty sure they would love to go and do things that we do, and the prom is one of them."
This is Cannie's third year hosting the prom. He says organizing any event can be stressful, but this year was easier thanks to support from the Milledgeville community.
Tracy Harper is one of the organizers helping Cannie. She said she was inspired by the work Cannie does for the community, and wanted to help.
"I'm just excited to see the parents being able to see the kids out having a good time, enjoying themselves, coming together as one," Harper said.
Of course, no prom would be complete without music, food and glamorous makeup looks. Keondra Sanford, a Milledgeville make-up artist, offered her services to help children feel beautiful.
The special needs prom is an event close to Sanford's heart because both she and her daughter have been affected by disabilities.
"I feel that I can do anything, and that I can teach those babies that they can do anything. Anything," Sanford said. "Nothing is too big for God. Nothing."
Alyiah Cannie, Donnie's niece, says she is looking forward to seeing all her friends at this year's prom.
For Alyiah, last year was extra special because she was crowned Prom Queen. She said her favorite part about the prom was dancing, and that she can't wait to go again.
The Special Needs Prom will be held Saturday from 3PM to 6PM at Primecare Home Care Services in Milledgeville. Formal wear is not required, and it is completely free to attend.
Attendees interested in receiving a free makeover are encouraged to contact out to BeatsbyKeke to schedule an appointment.