Big break in the heat this week
MACON, Georgia. (41NBC/WMGT) – Middle Georgia will finally catch a break from the summer heat this week as widespread rain keeps temperatures below normal (93 degrees).
A low pressure system will sit east of the Mississippi River through much of the week.
Southerly winds from the Gulf of Mexico and Atlantic Ocean this week will allow ample moisture to flow across the Deep South.
A stationary front will limit where the moisture can flow, keeping it in the southeast.
Adding in daytime heating (energy from the sun during the day), rain showers and thunderstorms will develop daily, becoming more widespread through the middle of the week.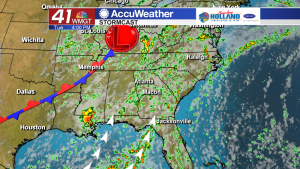 Where rain/storms do form, heavy rainfall will be a threat. Flash flooding will also be possible since these cells will likely move slowly.
Rainfall totals are expected to be above two inches across Middle Georgia by Sunday.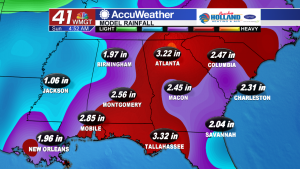 Because of the amount of moisture in the air, more clouds will develop and hang around this week.
Rain and storms will start to pop-up in the early afternoon and become more widespread through the late afternoon and evening hours.
Due to the combination of clouds and rain activity expected this week, temperatures will only top out in the mid-80's Tuesday through Friday.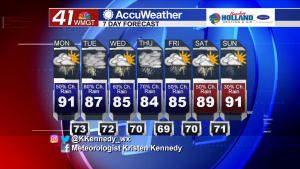 Connect with Meteorologist Kristen Kennedy on Facebook and Twitter for weather updates throughout the day. You can also watch her forecasts Monday through Friday on 41NBC News at Daybreak (5-7 a.m.) and 41Today (11 a.m.).