Month of April to end with cooler weather than normal for Middle Georgia
MACON, Georgia (41NBC/WMGT) – It's easy to say that winter was anything but normal for Middle Georgia, and now it seems spring is following that trend too. Middle Georgia continues to ride the temperature roller coaster.
Just take a look at yesterday's temperature recordings: Macon topped out at 87 degrees, just three degrees shy of a record high temperature (90 in 1967).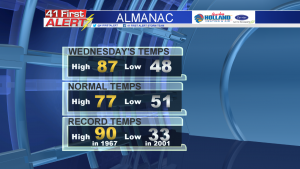 80 degree temperatures won't appear in Middle Georgia's forecast anytime soon.
A cold front will pass through Middle Georgia Thursday morning. While it will be a weak front, not producing rainfall, it will bring in cooler air from the northwest.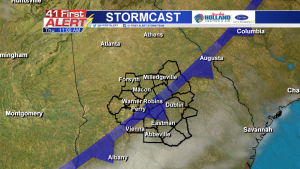 Sunshine sticks around through the first half of the weekend as temperatures stay in the low-mid 70's. Another frontal system moves through Middle Georgia early next week. Temperatures will bounce from the 60's to the 70's and vice versa.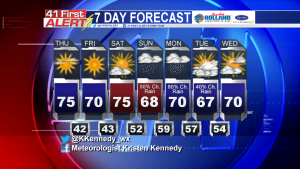 According to the National Weather Service in Peachtree City, the normal high temperature in Macon for the end of April is 78-80 degrees. The Climate Prediction Center's Temperature Outlook for April 26 through May 2 forecasts a 40% chance of below normal temperatures.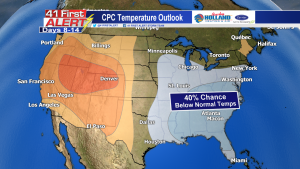 Connect with Meteorologist Kristen Kennedy on Facebook and Twitter for weather updates throughout the day. You can also watch her forecasts Monday through Friday on 41NBC News at Daybreak (5-7 a.m.) and 41Today (11 a.m.).