Another hot and humid week ahead in Middle Georgia
MACON, Georgia. (41NBC/WMGT) – Get ready for another hot and humid week here in Middle Georgia.
A high pressure system in the Gulf of Mexico will continue to churn tropical moisture over the southeast. Daytime heating and more moisture in the air will result in pop-up showers and storms each day.
A few waves of energy will also surge south from the mid-west, creating some showers and storms, too.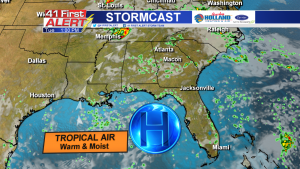 Factoring in the humidity to the temperatures, it will feel more like the triple digits this week.
Monday, a Heat Advisory was issued for almost all of Middle Georgia due to heat indices (feels like temperatures) around 105. It is still going to feel very hot tomorrow, but heat indices will likely stay below advisory criteria.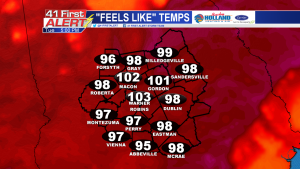 Because it is going to be so hot this week, it's important that anyone spending any time outdoors follow the following heat safety tips.
Avoid strenuous activity, if you can
Wear light-weight and light colored clothing
Stay hydrated, drink water
Wear sunscreen and apply it regularly
Take breaks in the shade or inside
Never leave people or pets inside vehicles
Check on your neighbors, especially the elderly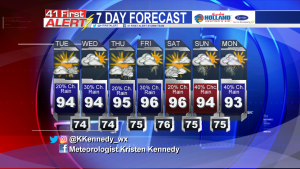 Connect with Meteorologist Kristen Kennedy on Facebook and Twitter for weather updates throughout the day. You can also watch her forecasts Monday through Friday on 41NBC News at Daybreak (5-7 a.m.) and 41Today (11 a.m.).