Another front stalls across the Deep South, storm chances daily
MACON, Georgia. (41NBC/WMGT) – A cold front brought storms through Middle Georgia Sunday night, leaving behind slightly cooler/drier air Monday morning.
Unfortunately, humidity will creep back into the forecast as the frontal system stalls out across the Deep South through mid-week.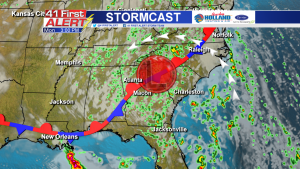 Winds will mainly come from the southeast, pushing moisture from the Atlantic Ocean across the east coast.
With daytime heating, showers and storms will pop-up throughout the afternoon and evening hours.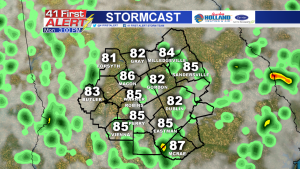 Scattered showers and storms will likely be highest in coverage Monday through Wednesday. High temperatures during these days are expected to stay in the upper 80's, hovering around 90.
Heading into the end of the work week and weekend, rain will still be possible, but temperatures will rise.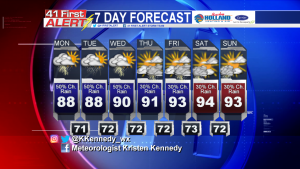 Connect with Meteorologist Kristen Kennedy on Facebook and Twitter for weather updates throughout the day. You can also watch her forecasts Monday through Friday on 41NBC News at Daybreak (5-7 a.m.) and 41Today (11 a.m.).