Staying cold Thursday
It has been a chilly, rainy day in Middle Georgia, but changes are on the way.
A cold front pushed through Middle Georgia this afternoon and the rain has finally stopped.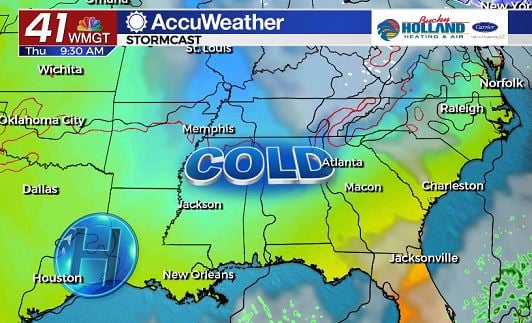 Behind the front, cold air will continue to settle in, but dry air will replace the rain and clouds.
Highs Thursday will top out in the low 50's and upper 40's, although breezy conditions will make it feel cooler.
At least the clouds will be clearing, leaving us with a sunny afternoon.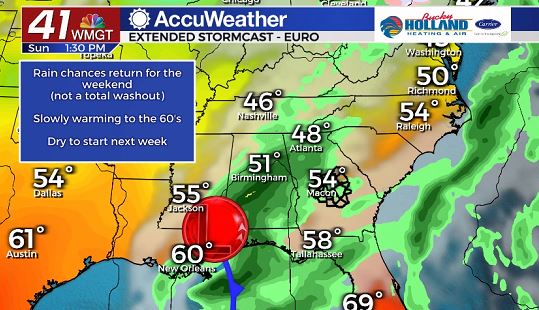 Dry weather will be continuing for Friday and most of Saturday, thanks to high pressure.
By Saturday evening, we will be tracking an area of low pressure approaching the area.
There is still some question as to how much moisture we will see with this system, but it looks like we could see a few showers Saturday evening, with more rain chances on Sunday.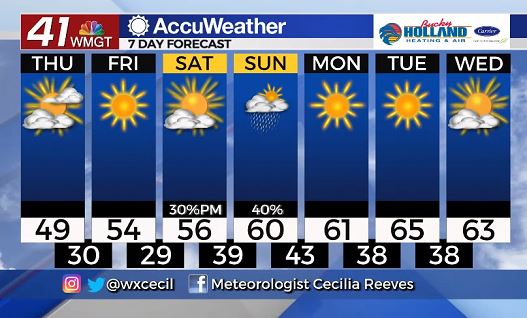 The rain should be moving out by Monday morning, leaving us with sunshine and clear skies for the start of next week.
Highs will be warming up into the 60's for the start of next week, so enjoy it.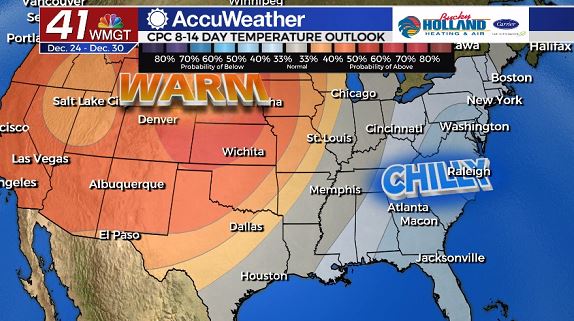 Looking ahead to Christmas Eve, through the end of December, much cooler air will be settling in and could bring a chilly Christmas.
Sorry though, we are still not expecting a "White Christmas".
Likely conditions will be staying dry on Christmas Day.