Soggy and cold week in the southeast
MACON, Georgia. (41NBC/WMGT) – After a dry and mostly sunny Veterans Day weekend, the wet weather is making a return. Soggy conditions will last most of the week as a low pressure system moves along the Gulf Coast.
The warm front will effect Middle Georgia's weather first by pulling in warm and moist air from the Gulf of Mexico. Temperatures will rise throughout the day Monday and continue rising overnight into Tuesday morning.
A cold front will push in from the northwest, bringing colder air down south throughout the day Tuesday. Temperatures will drop from the 60's Tuesday morning to the low 50's Tuesday afternoon.
The cold front and warm front will work together to squeeze out all the moisture in the atmosphere, resulting in widespread rainfall across the southeast.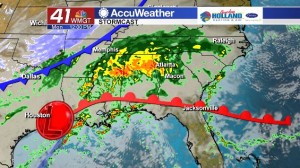 Just how much rain are we expecting?
Monday morning, multiple models indicated rainfall totals ranging from two to four inches through Thursday afternoon.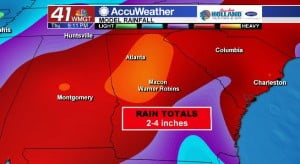 7-day forecast breakdown:
Monday: Overcast, scattered rain showers (perhaps a few thunderstorms in the mix). Afternoon highs near 56 degrees. Temperatures keep climbing through the evening hours. Wind: E 5-10 mph, gusts up to 15 mph.
Tuesday Morning: Overcast, scattered rain showers. Temperatures in the low 60's. Wind: E 5 mph
Tuesday Afternoon: Mostly Cloudy, scattered rain showers. Temperatures drop throughout the day down to 51 degrees.
Wednesday Morning: Mostly cloudy. Temperatures in the mid-40's.
Rain lasts through Thursday morning. Sunshine and drier conditions set up for the weekend!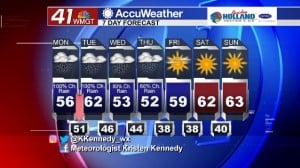 Connect with Meteorologist Kristen Kennedy on Facebook and Twitter for weather updates throughout the day. You can also watch her forecasts Monday through Friday on 41NBC News at Daybreak (5-7 a.m.) and 41Today (11 a.m.).